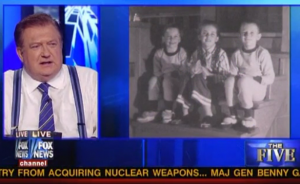 The crew on The Five spent a few minutes talking about their five-year-old selves on Thursday, sharing photos of themselves at the young age, exchanging compliments and jokes. All in good fun. Then we found that Bob Beckel was apparently a rather mischievous child — who once burned down a garage.
The segment was pegged on a USAID initiative called "Every Child Deserves a 5th Birthday," which is an effort toward ensuring that children make it to age five. Going around the table, everyone shared a photo of themselves. Andrea Tantaros was "always in a leotard" and Eric Bolling shared one of him with his niece — while Dana Perino showed off her perm and Greg Gutfeld looked a serial killer (according to Beckel).
Beckel shared his photo last, adding in an anecdote: when he and his brother burned down a neighbor's garage. They went to burn the garbage, he said, since it always smelled bad. "We put lighter fluid in it," he said. "Then lo and behold, the entire garage burned to the ground." With a car in it. Oops.
Tantaros then encouraged Beckel to share his newest purchase. "I was walking and I couldn't get a cab," Beckel said. "So I was next to a bicycle shop, so I walked in and bought a bike. And I rode it home and almost got killed — 15 times, 15 different ethnic taxi drivers. That was the extent of it. I'll continue to ride it and get better."
Take a look, via Fox News:

Have a tip we should know? tips@mediaite.com