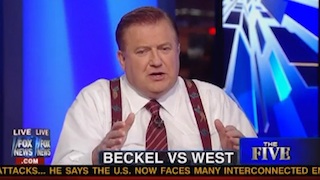 Yesterday, things got pretty fiery on The Five thanks to the comments Rep. Allen West made this weekend saying that President Obama and other leaders of the Democratic Party should "get the hell out of the United States of America." Bob Beckel went off on the comments, saying he'd "never heard anything more disgraceful in my life." This morning, West demanded an apology but, on today's Five, Beckel made it clear that one won't be forthcoming.
RELATED: The Five Explodes Over Allen West's 'Get The Hell Out Of The United States' Comment
West made the demand today on Fox & Friends. He carefully explained that he totally didn't say that Obama should get the hell out, merely that his message should. Obviously, this is entirely different because, presumably, the President can send his message over the mail and never have to physically leave the country himself. See? Beckel totally overreacted.
Anyway, the thing that apparently really annoyed West was that Beckel refused to call him by his title when Eric Bolling told him to. For this, he said he would await Beckel's apology. However, it doesn't seem like it'll be here any time soon.
"Mr. West," Beckel said. "Let me just tell you, if you've got enough time you can wait, but I am not going to apologize to you."
He went around the table and asked his co-hosts if they thought he should and, while they disagreed with him, no one wanted to say he would except for Dana Perino. She did say, though, that she always prefers to over-apologize for everything.
In the end, Beckel declared the situation over, saying that West has one position and he has his own. There wasn't, however, any apology.
Really though, Beckel should have just explained that he was only talking about West's message. As far as I know, West's message has never been elected to office and therefore has no title. See? It's totally different.
Watch the clip from Fox News below:
Have a tip we should know? tips@mediaite.com