The Five's Bolling Rips 'Racist' Alternate Zimmerman Juror For Being Too 'Afraid' To Show Face On TV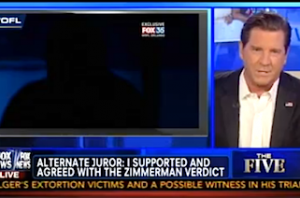 The Five's Eric Bolling went off on the anonymous man known as Juror E54, who did not get a chance to case a vote in the George Zimmerman trial, but did go on a local Fox affiliate and, with his face a darkened blur, declare his "support" and "agreement" with the verdict. "Why is he in a silhouette?" Bolling asked in disbelief, even going so far as to call the man "racist" for thinking he's in danger from the black community.
"I have to take issue with" his face being blacked out, Bolling told his fellow co-hosts. "He wasn't even part of the decision." Bolling did commend the segment as "great television, great interview, very interesting to hear the insight of what was going on during the jury's listening to the trial and deliberations."
Dana Perino was the first to put forward the theory that the juror might be "worried about his personal safety." And Andrea Tantaros added she "doesn't blame him for disguising his identity" when there's going to be "over 100 protests in the street."
After playing recent soundbites from Jesse Jackson, who called Florida an "apartheid state," and Charles Barkley, who lamented the "racist" "hidden agenda" of the media, Bolling turned those charges of racism around, with his aim squarely on Juror E54.
"I think that alternate juror in silhouette was racist," Bolling said, admitting some might find him "crazy" for this particular view. "If you don't have the guts to put your face on TV–what are you afraid of? Have more confidence in the black community, they're not going to come after you pal."
Watch video below, via Fox News:
—
>> Follow Matt Wilstein (@TheMattWilstein) on Twitter
Have a tip we should know? [email protected]