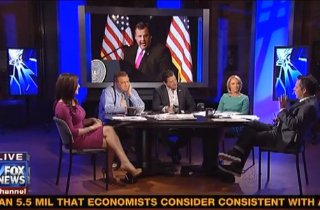 On Monday's edition of Fox News' The Five, the show's more conservative hosts went after New Jersey Gov. Chris Christie for his appearance this past weekend on Saturday Night Live while his home state continues to suffer the effects of Hurricane Sandy.
Co-host Eric Bolling began the segment decrying "RINOs" (Republicans In Name Only). He specifically targeted Christie, who "acted like a Democrat" with his "slobbering wet kiss to Obama days before the election" in addition to his recent appearance on SNL "while Jersey suffers from power outages, destroyed homes, and massive job losses."
The show then rolled side-by-side the clip of Christie appearing on SNL's "Weekend Update" segment with aerial footage of Hurricane Sandy's destruction in Jersey. Bolling noted that this editorialized video was his idea.
Co-host Dana Perino agreed that Christie's appearance was "too soon" given the ongoing relief effort in parts of New Jersey. "I think I would have turned them down a few more weeks," she said. "I don't want to be a fuddy-duddy, but i would have put it off a couple of weeks.
Greg Gutfeld said he doesn't think "it's bad what he did," but mocked Christie for having "a bit of an attention addiction" because "he got a taste of popularity" and now he thinks he can entertain everyone. "No reason to turn into Chris Farley," he joked.
Bolling then interjected that this underscores the main issue with Christie's appearance: By going on SNL and engaging with popular culture, "you are a Republican, but you are acting like a Democrat."
"Because the president helped you?" a skeptical Bob Beckel responded.
Andrea Tantaros jumped in and said that "I think it was poor judgment" on Christie's part. She added that perhaps it was "payback" for the people who got angry that he was "making out" with the president after the hurricane. She then contrasted Christie's appearance with former New York City Mayor Rudy Giuliani's "tasteful" post-9/11 SNL appearance in which he "honored the victims."
Watch below, via Fox News:

— —
>>
Follow Andrew Kirell (@AndrewKirell) on Twitter
Have a tip we should know? tips@mediaite.com