The Five's Dana Perino Cannot Believe 'The Left' Thought Her Joke Rap Was 'Racist'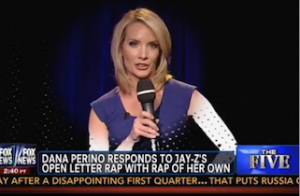 In case you missed Dana Perino making her hip hop debut on The Five yesterday, the Fox News show decided to replay the moment again on today's show. Perino was surprised not only by how much attention her performance got online, but also by the tone of that attention. As Perino revealed to her co-hosts, some on "the left" have been calling her "racist."
Perino didn't point to any specific examples, except for one tweet from someone named Richard Robbins who put forward her rapped response to Jay-Z as an example of the GOP's "laughable minority outreach." Of the major articles written online about her rap, the one that came closest to implying racism was probably this post by Gawker's Max Read, who said Perino's real "joke" was "LOL, black people."
Greg Gutfeld, who apparently put Perino up to the performance in the first place, strongly defended his colleague against the alleged attacks. "This is what passes for intellectual rigor on the left," he said. "If they can't come up with anything, a response, they have to call you a racist." He added, "the whole point of that rap was to show that you can't rap" and then pointed to Perino's experience working with HIV patients in Africa as proof that she is not racist.
Bob Beckel didn't exactly improve the situation by delivering a rap of his own that ended with the couplet "That homegirl been straight for so long / She said to her upper-crust honky friends, suckers, I'm gone!"
Finally, Perino jokingly announced that her album is "dropping" next week and showed this cover that an enthusiastic fan of The Five made and posted on Twitter.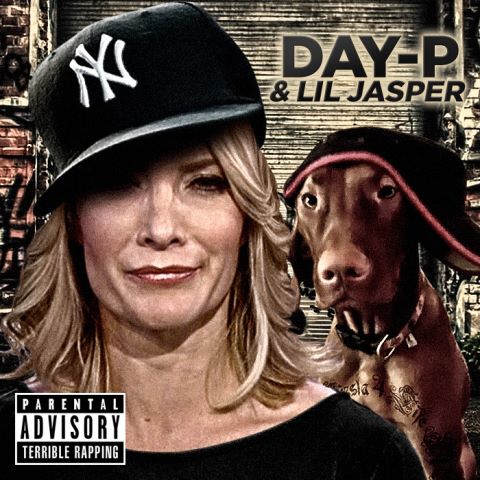 Watch video below, via Fox News:
—
>> Follow Matt Wilstein (@TheMattWilstein) on Twitter
Have a tip we should know? tips@mediaite.com