The Five's Eric Bolling Admits He's 'Having A Hard Time' Understanding Why Romney Has Swiss Bank Account
Bolling Admits He's 'Having A Hard Time' Understanding Why Romney Has Swiss Bank Account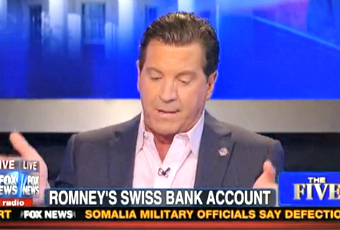 Wednesday afternoon's edition of Fox News' The Five took on the reports that presumptive Republican nominee Mitt Romney has a Swiss bank account, with conservative co-host Eric Bolling expressing a slight unease and confusion as to why Romney would have it.
"No one is saying it's illegal, but is it inappropriate for him to have a Swiss bank account?" Dana Perino asked the panel.
"I'm having a hard time with this topic," Bolling admitted. "Everyone is saying [Congresswoman] Debbie Wasserman-Schultz has investments in Swiss banks, and they need to point out the difference between the two: having a Swiss bank account is very different than having investments in Swiss banks. If you have a 401(k) or money manager, they may invest in Swiss banks — that's one thing. If you put money in Swiss bank account, you do it for a reason. I don't know what the reason is –"
"Hedging against the American dollar," Bob Beckel quipped.
"Here's the issue: you're hiding it from the IRS for a reason. And I don't know what," Bolling continued.
"Is it hiding? Or if it's legal, is it putting your money in a smart place?" Perino challenged.
"It's hiding because the Swiss do not report to the U.S. IRS," Bolling replied. "And there is a reason to do it, I can't figure out what it is."
Of all the five panelists, Bolling has the most experience with finance — he was a commodities trader on the New York Mercantile Exchange for years, and so his unease with Romney's Swiss accounts may come as a surprise to viewers.
After Beckel insinuated that there is something illegal about the bank account, Greg Gutfeld got in on the discussion, saying, "This is class warfare, again, driven by Occupy Wall Street. Let's remember about transparency: a Swiss bank account didn't kill an American border patrol agent," referring to the Department of Justice's ongoing Fast & Furious gun-running scandal. "So let's stop talking about transparency. Obama's past is as spotty as a Twister mat. And it's not because he lied; it's because he embellished."
"Can I just point out with the Swiss bank account thing: Who cares?" Andrea Tantaros interrupted. "UBS is the largest swiss bank in the world and they have the largest trading floor where? Connecticut. they employ 2,000 employees and forgive a $20 million loan. And I say, who cares?"
"We're not saying to invest in a Swiss bank is a bad thing," Bolling shot back. "Anyone can do it. Everyone here might be even doing it."
"To have a swiss bank account conceals it from the IRS," he continued, trying to figure out why Romney has the account. "The only thing I can possibly think of: In 2007-2008, when the world financial markets were melting down, the Swiss banks were the healthiest. Maybe Mitt Romney was smart and said 'I'm not having my money at risk in a US bank,' and moved them to the Swiss. He should tell us, though."
Check out the segment below, via Fox News:
>> Follow Andrew Kirell (@AndrewKirell) on Twitter
Have a tip we should know? tips@mediaite.com