The Five's Eric Bolling And Bob Beckel Fire Back At Jon Stewart For His 'Asinine' Attack On Fox News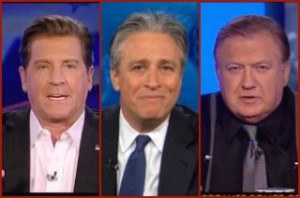 In response to Jon Stewart's Wednesday evening monologue that tore into a handful of Fox News commentators for disregarding multiple constitutional amendments in response to the Boston bombings, Eric Bolling fired back with a full segment response on today's The Five.
While playing clips from Bolling, Brian Kilmeade, Ann Coulter, and other Fox commentators, Stewart made the case Wednesday evening that the conservative commentariat seems inclined to throw out several amendments (save for the Second) in the aftermath of the April 15th bombings.
His particular shot at Bolling involved the phrase "freedom math," referring to Bolling's on-air calculations for a particular number of Muslims in America who want to kill their fellow citizens. Beckel was lampooned for his suggestion that it would be judicious to cut off student visas for foreign Muslims.
On Friday afternoon, Bolling called the Daily Show host's criticism "assinine" [sic] and teased a segment of him and co-host Bob Beckel responding to Stewart: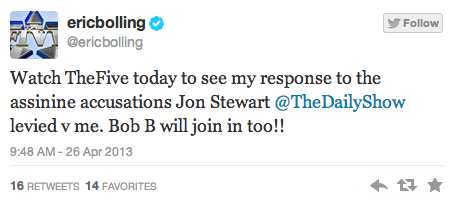 Kicking off the final segment of the show this afternoon, Bolling addressed Stewart directly, calling the segment a "piece of sh… satire." The show then played the clip in which Stewart mocked Bolling's "freedom math."
"Freedom math, huh?" said Bolling in response. "Well here's some New Hampshire math. What do you know? Professor Alynna Lyon comes up with the exact same number as my 'freedom math': 1.57 million worldwide would be radicalized to the point of wanting to kill us."
"Or how about this one?" he continued. "Pew Research math, who say 13-percent of Muslim Americans they polled are cool with suicide bombing innocent civilians. That's 357,000 potential Tsarnaevs walking around our schools, our parks, and our ballgames. Hey, Jonny boy, pull up a chair right here between Bob and me and let's debate this thing. Come on, you got the cajones?"
Beckel then took over and aired his own grievances with Stewart:
"I was a liberal activist and a progressive before you were out of your Pampers. And you may get on a TV show and talk liberal politics, but I've been on the lines registering voters, being on the union lines, and others. Maybe you want to bring your credentials up here. Do not suggest that what I was saying here was a litmus test. I was simply saying that there were people we needed to take a two-year hiatus and check out those in this country who came on a student visa and cannot be found, and the FBI is trying to find them. It seems to me it's legitimate to try and do that before we let more people in. Now you want to call that a litmus test? My litmus test is that when you do something, when you quote somebody, you do it right. And you obviously don't have the sense to do that."
Will Stewart respond? We'll find out Monday night.
Watch below, via Fox News:
— —
>> Follow Andrew Kirell (@AndrewKirell) on Twitter
Have a tip we should know? tips@mediaite.com