The Five's Eric Bolling Mocks Obama: 'We All Know Obama's A Bullshooter, But Evidently He's A Big Skeet Shooter'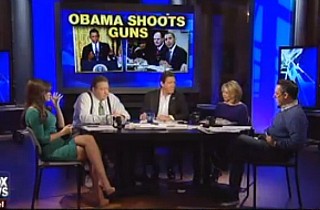 This afternoon, Fox News' The Five mocked President Obama for coming out as an avid skeet shooter, expressing skepticism that he actually partakes in the sport and running off a slew of related puns.
Obama told The New Republic this weekend that he is a skilled shotgunner who enjoys skeet shooting all the time while on vacation at Camp David. He used that experience to bridge the gap to other types of gun users: "I have a profound respect for the traditions of hunting that trace back in this country for generations," he said, "and I think those who dismiss that out of hand make a big mistake."
Conservative co-host Eric Bolling began the segment's pun-dropping by saying: "We all know [Obama's] a bull-shooter, but evidently he's also a big skeet shooter."
Liberal Bob Beckel deflected any conservative skepticism of the president's skeet shooting, saying, "My guess is he probably has done a little of that. Why they don't release a picture, I don't know, but does it really matter?"
Beckel then chided Bolling for his "bull-shooter" remark, calling it "on the edge." The conservative host feigned ignorance, and said, "You never know, he may want to shoot down a bull some time."
Co-host Greg Gutfeld jumped in to mock: "What is he actually skeet shooting? Clay pigeons shaped like the Fox News emblem," he said in clear reference to Obama's comments that Fox News contributes to partisan gridlock in Washington.
Gutfeld continued on to express skepticism that Obama's love for skeet shooting is genuine:
"I love how he picked the safest thing. No live animals hurt. The kids aren't around. Saying he likes to shoot? He was told to say that after Clinton came out and said, 'You know what? Look, there's a lot of people own guns and you are ticking them off. They're not just a bunch of rednecks' … So he had to come out and say, 'Oh yeah, I also shoot guns.' It's like me saying yeah, I have a lot of tall friends."
When asked whether she believes Obama actually shoots for a hobby, Kimberly Guilfoyle said "he shoots to the left," adding that "he had to say this" in order to not alienate gun enthusiasts.
Dana Perino chimed in: "I don't think he needed to say this. He says he skeet shoots at Camp David. How many times he has been to Camp David?"
"Three times," Bolling replied. "Where's the proof, Mr. President?"
The show then played tape of White House press secretary Jay Carney struggling to answer whether there are any photographs of the president skeet shooting while at Camp David. When confronted about why the public hadn't heard about his hobby only until during a major gun debate, Carney said, "He goes to spend time with his family and friend and relax, not produce photos."
"They release photograph of President Obama doing everything except for flossing," Perino said. "What he really does, he golfs all the time. We have pictures of that."
Watch below, via Fox:
— —
>> Follow Andrew Kirell (@AndrewKirell) on Twitter
Have a tip we should know? tips@mediaite.com