The Five's Eric Bolling On Drone Strikes: Obama Making 'Own Personal Kill List'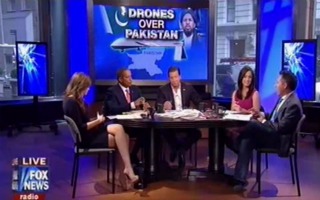 Fox News Channel's co-host of The Five, Eric Bolling, expressed his reservations over how President Barack Obama was executing the war on terror after it was announced that another Al Qaeda commander was killed in a U.S. drone strike. Bolling said that "this is President Obama making his own personal kill list," and wished that America's intelligence services had more input in the creation of the newly revealed list of drone strike targets. His fellow co-hosts quickly shot back that intelligence agencies did have significant input in the creation of that list.

RELATED: BREAKING: Al Qaeda's Number Two Leader Abu Yahya Al-Libi Is Dead
The U.S. confirmed on Monday that Al Qaeda's newest number two, Abu Yahya al-Libi was killed in a drone strike in Pakistan. The Five's hosts almost universally celebrated this latest development in the war on terror.
"This is why drones are awesome," said co-host Greg Gutfeld. "We can't trust Pakistan to deal with these people, so we just have to kill them and eliminate any opportunity or potential that they might go to court."
"Drones are the best thing that's ever happened," Gutfeld concluded. Fill-in co-host Juan Williams agreed and added "I think so."
Bolling, however, expressed some concerns with how President Obama has managed his so-called "kill list" since it was revealed in May. "The fact that the President is calling all these shots – he's like, I'm gonna kill this guy, let's kill that guy – the kill list is a problem," said Bolling.
"What are you talking about," interrupted co-host Kimberly Guilfoyle.
"I want more people involved," said Bolling. "I want the CIA involved…"
"They are involved," answered a chorus of The Five hosts.
"According to the New York Times, Obama has the kill list and he is the executioner," responded Bolling.
"They draw up the list," answered Williams.
"You're wrong," said Bolling. "This is President Obama making his own personal kill list…"
"Even if that's not true, that's the way his administration framed it in the New York Times, right," replied co-host Andrea Tantaros.
"What Andrea said is true," said Guilfoyle. "His administration is making it seem like he's the wartime president." She went on to say that the impression the Obama administration was projecting to the press is not true and the execution of overseas operations is the result of broad cooperation across a number of government branches and military services.
Watch the segment below via Fox News Channel:
Follow Noah Rothman on Twitter
Have a tip we should know? tips@mediaite.com