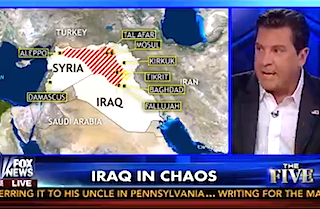 The general consensus among conservatives over the past week is that President Barack Obama has not done enough to prevent the escalating violence in Iraq. But Fox News' Eric Bolling thinks that rather than restart the Iraq War, the president should "do nothing" and prevent the deaths of even more American troops.
Jesse Watters was offering his plan to send special forces into Iraq on The Five Monday when Bolling interrupted him. "Send more of our young kids in to be slaughtered and to be killed again?" he asked. Even if American troops could "calm things down" in Iraq, Bolling said the "cockroaches" would just pop up again after we leave.
Later, Bolling took things to a personal level when he said he does not want his 15-year-old son fighting in the Middle East in three years. "Doing nothing will cost fewer lives and a lot of money than doing something, which frankly doesn't work," Bolling said. "The thought of sending my 15-year-old son to Iraq, to Afghanistan, to Syria… is asinine."
Dana Perino and Kimberly Guilfoyle both countered Bolling, arguing that there is a middle ground between "doing nothing" and sending thousands of troops to potentially die in battle. But Bolling was not persuaded.
"Let's not do the same thing again," Bolling said towards the end of the segment. "Because if we spend another ten years doing this and another 4,400 lives, another trillion dollars, [the terrorists] are going to come back as soon as we leave."
"Now we're a nation of quitters?" Guilfoyle asked. "I don't think so."
Watch video below, via Fox News:
[Photo via screengrab]
— —
>> Follow Matt Wilstein (@TheMattWilstein) on Twitter
Have a tip we should know? [email protected]