The Five's Eric Bolling Turns on Stop-and-Frisk: 'Can't Make the Leap' to Lower Crime Rate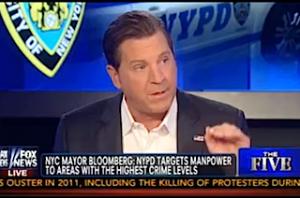 Last week on The Five, Eric Bolling expressed his strong support for the NYPD's stop-and-frisk program and even spoke out against the "activist judge" who deemed it unconstitutional. But after doing some more research over the weekend, he appears to have changed his mind. "I can't make the leap that says stop-and-frisk is the reason for a lower crime rate in New York City," Bolling said Monday.
"On Friday, I was really in favor of this stop-and-frisk thing," Bolling told his fellow co-hosts. "I have to tell you something, some of the cities with the highest violent crime rate have stop-and-frisk." He said that from the research he did, it appears that "crime is more tied to economic activity… than it is to stop-and-frisk."
Bob Beckel backed-up Bolling, highlighting the 4.4 million stops over 10 years, in which a "miniscule" number led to arrests. The other hosts remained staunchly in favor of the practice.
Brian Kilmeade said the explanation for why stop-and-frisk brought down crime rates in New York City but not elsewhere is because "New York's better at it." He added, "What they're doing is, when you stop 5 million people and you only have 10% result in arrest, you know what I say? Good job."
Towards the end of the segment, Bolling clarified his comments a bit, saying, "I do think it's constitutional. I don't think the police are doing anything wrong by doing it. I'm simply saying, when you look for causal effects, reasons behind murder rates, violent crime, rapes, et cetera, it is more tied to economic availability, ability to find work than it is to stop-and-frisk."
Watch video below, via Fox News:
[photo via screengrab]
—
>> Follow Matt Wilstein (@TheMattWilstein) on Twitter
Have a tip we should know? tips@mediaite.com