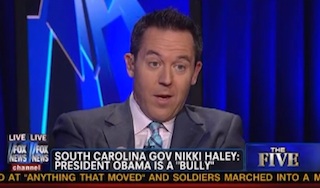 Today, The Five opened their show with a discussion of the reaction to President Obama's comments on Monday on the Supreme Court's coming ruling on the health care law. They also discussed the comments of South Carolina Governor Nikki Haley who said the President was becoming a "bully." Greg Gutfeld disagreed, claiming that Obama is actually a whiner.
RELATED: Nikki Haley On Fox & Friends: It's Amazing 'What A Bully Obama Has Suddenly Become'
Gutfeld said:
"I don't think he's a bully at all. I think he's whining. And the problem is he's missing his Vice President, which is the mainstream media which usually comes to help him in these situations. Instead, he relies, like I said, on jargon. They keep talking about how this is a transparent administration but the health care bill wasn't transparent, the way they dealt with the Supreme Court was not transparent. They're about as transparent as the Hoover Dam at this point. He needs help and the media's got to kick in and support him."
Dana Perino argued that the mainstream media is helping him (once again, we should point out that the news channel with the highest ratings for years somehow doesn't count as "mainstream"). They did show an example of the totally-not-mainstream media taking the administration to task with the footage of Fox News' Ed Henry debating Jay Carney today.
Meanwhile, Bob Beckel, who didn't have a problem with Obama's comments from Monday, thought the President wasn't a bully but said it was time for him to be one.
Watch the segment from Fox News below:
Have a tip we should know? tips@mediaite.com