The Five's Greg Gutfeld: Rick Perry's Speech Was Like When I Take Ambien On A Plane And Have A Scotch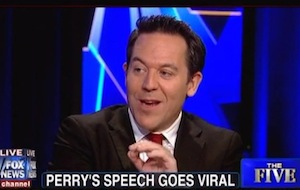 The panelists on Fox News's The Five couldn't decide what drug Rick Perry was on when he gave his widely publicized off-kilter speech in New Hampshire. "That reminded me when I take an Ambien on a plane and have a scotch," Greg Gutfeld exclaimed, suggesting Perry had some drinks to loosen up as Joe Scarborough had suggested. "The difference between the right and the left is the left says crazy stuff when they're sober. I'd rather have a drunk Perry than a sober Obama."
"That looked more like shrooms!" Bob Beckel chimed in. Dana Perino defended the Texas Governor, saying he just got a little excited.
"It's possible he was overcompensating and trying not to be stiff," Perino argued. "He was having a good time with the audience."
"One rule of the presidential politics that always used to scare me whenever a candidate gives a speech to a crowd that's with him," explained Beckel. "When you go to your friends and you give speeches, you have a tendency to get out and say things you wouldn't normally say."
RELATED: Rachel Maddow: Rick Perry's Weekend Speech Was '25 Minutes Of Dean Screams' That Will End His Campaign
Eric Bolling was visibly irritated by the speculation that Perry was under the influence of some drug, saying that too much was being made of his demeanor.
"You guys don't like him when he's quiet, you don't like him when he's happy," Bolling scolded. "He went out and — look, there is no indication he was — there was no proof he was drinking, had drugs! Did anyone take apart what he said?"
"He looked unstable!" Andrea Tantaros added.
Watch The Five analyze Perry's speech below via Fox News:

Have a tip we should know? tips@mediaite.com