The Five's Gutfeld Eviscerates 'Pathetic Tool' Jim Carrey Over Anti-Gun Video: 'Made Me Want To Go Out And Buy A Gun'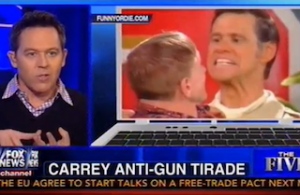 Greg Gutfeld made his feelings about Jim Carrey's new Funny Or Die video known earlier in the day with a torrent of outrage on Twitter. And the co-host of The Five shared his displeasure again this afternoon on Fox, calling the actor "the most pathetic tool on the face of the earth" and saying "I hope his career is dead and he ends up sleeping in a car the way his life began. This video made me want to go out and buy a gun."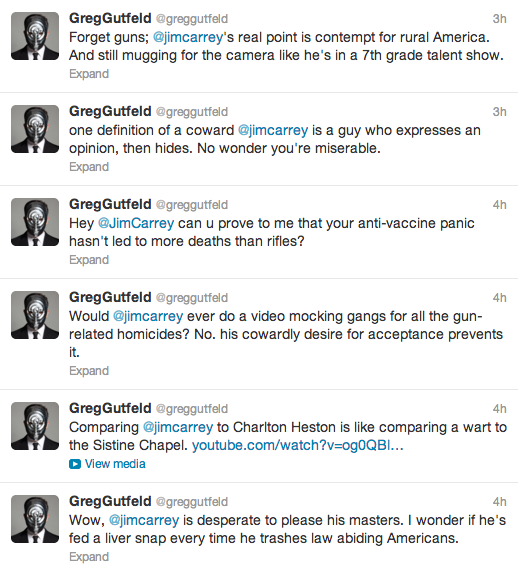 Gutfeld's main objection to the video, in which Carrey plays both late NRA spokesman Charlton Heston and a country singer who mocks Heston's pro-gun rights positions to his face, is that Carrey is demonizing rural America. In both the tweets above and on The Five, Gutfeld claimed that Carrey wouldn't dare make a video that goes after gangs for inner-city hand-gun shootings.
The other hosts on the show didn't feel quite as strongly about the video as Gutfeld did, but they did express their distaste with the message Carrey was trying to impart and spent a few minutes trying to remember the last good movie they saw him in. Eric Bolling claimed Carrey was only embracing the gun issue in an effort to "stay relevant" and Bob Beckel questioned Carrey's qualification as a "foreigner" (he's Canadian) to weigh in on the debate at all.
Naturally, Gutfeld got the last word on the topic, calling Carrey a "little baby" for not engaging him on Twitter after promoting the video to his 10 million followers there earlier in the day. Carrey may have been courting controversy by releasing such a divisive video, but Gutfeld is looking for a fight.
Watch video below, via Fox News:
—
>> Follow Matt Wilstein (@TheMattWilstein) on Twitter
Have a tip we should know? tips@mediaite.com