The Five's Hosts Weigh In On Cheney Saying Palin Was Not Ready To Be President In 2008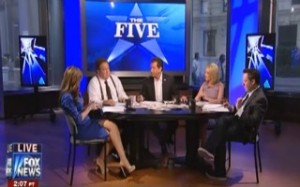 On Sunday, former Vice President Dick Cheney told ABC News' Jonathan Karl that he felt that former Republican vice presidential nominee Sarah Palin was not ready to be the president in 2008. On Monday, the hosts of The Five weighed in on Cheney's comments.

RELATED: Dick Cheney: John McCain Made A Mistake Choosing Sarah Palin For VP In 2008
Before playing a clip of Cheney saying that he felt Palin was not ready to be president and was therefore a bad choice to be Sen. John McCain's nominee, Bob Beckel said that his statement reflected a level of "disillusionment" in the GOP.
"He was half right," said Greg Gutfeld about Cheney's statement. "The whole ticket wasn't just Palin, it was also McCain. They both lost." Gutfeld said that the 2008 GOP ticket "didn't stand for anything" and that was the primary reason why they were rejected by the voters.
"You don't think Palin had anything to do with it," asked Beckel.
"No, I think Palin added excitement to the ticket, but they weren't going to win because people were down," Gutfeld replied.
Eric Bolling asked why, with a month left before the political conventions and Mitt Romney's vice presidential rollout, Cheney would say this about Palin to begin with.
"I guess there is some freeing that happens to you when you get to a point in your life where you're like, 'I can say whatever I want to say,'" opined Dana Perino.
Beckel said that he though Cheney's comments were directed at Florida Sen. Marco Rubio, suggesting that Rubio would not be as solid of a vice presidential candidate as many pundits think. "It's the safety factor," said Beckel. "I think that's what Dick Cheney was saying."
Perino said she thought it was admirable of Liz Cheney to take to her twitter to disagree with her father's comments and it was a credit to former Vice President Cheney's parenting that she could be that comfortable to publically disagree with her father.
Watch the segment below via Fox News Channel:
> >Follow Noah Rothman (@Noah_C_Rothman) on Twitter
Have a tip we should know? [email protected]