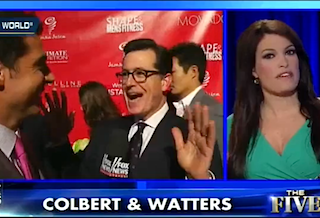 What does Stephen Colbert really think about Fox News? That question came up Wednesday afternoon on The Five after Eric Bolling showed a clip of The O'Reilly Factor's Jesse Watters running into the Colbert Report host at a Super Bowl party last weekend. According to Kimberly Guilfoyle, Colbert only goes after Fox in a "loving way."

"Can I tell you? He doesn't offend me at all," Guilfoyle said. "I like Colbert because he's funny and he's cool. He knows how to have fun and doesn't stick his nose up to Fox."
"He trashes us quite a bit though," Bolling, who has long been one of Colbert's favorite media targets said.
"You know what though? I think in a loving way," Guilfoyle said, drawing laughs from her co-hosts. "I think he admires Fox, he knows we're the winners."
Here are a few of the "loving" things Colbert has said specifically about The Five over the last few months:
On Bolling's reaction to Ariel Castro's prison suicide: "If any of you freeloaders out there need some inspiration, just turn on The Five. Because every time I watch Eric Bolling, I want to kill myself."
On Dana Perino's reaction to the Obama rodeo clown story: "It's much ado about nothing, and nobody 'ados' nothing like Fox News' Dana Perino."
On Bob Beckel's reaction to the idea that football is dangerous: "I've got nothing against brains, some of my best friends have them. But you cannot scrap football over brain damage. Just ask the brain-damaged… Some people's lives are so bleak, stuck in a soul-crushing and pointless job, surrounded by coworkers who don't respect them, that the only bright spot in this tundra of futility is laying on the couch in a nacho-induced coma, just praying by the grace of God they'll choke on a chicken wing and end it all. You can't take that away from Bob Beckel, it's his only hope!"
Judging from Colbert's website, he is yet to single out Guilfoyle for any love.
Watch video below, via Fox News:
[photo via screengrab]
— —
>> Follow Matt Wilstein (@TheMattWilstein) on Twitter
Have a tip we should know? tips@mediaite.com