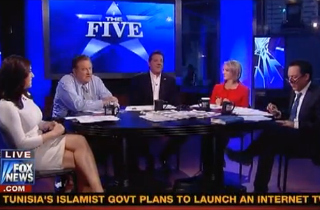 On Thursday's edition of Fox News' The Five, the co-hosts offered their "sage advice" to CBS anchor Bob Schieffer who is set to moderate next Monday's third and final presidential debate. By and large, the conservative co-hosts' advice focused on Schieffer staying out of the way of the candidates.
Conservative co-host Eric Bolling started the discussion by declaring that the second debate moderator Candy Crowley deserves an "F" for her moderating job.
Andrea Tantaros agreed, saying that during next Monday's debate, Schieffer should "get out of the way" to let the candidates go at it: "Don't interfere, let the players play," she added. "If there is a moment where the two candidates are hitting on something, let them keep talking. Don't change the subject.
"I say to Schieffer: be quiet," she concluded. "Follow Jim Lehrer and let them talk."
Liberal co-host Bob Beckel praised Schieffer as "one of the best and sage people around," noting that his extensive debate experience means "he will stay out of the way."
Co-host and former Bush Press Secretary Dana Perino added that her advice would be for the debate commission to "consider not giving media personalities the debate moderator position. Go to somebody like Larry Sabato on the political science side who is not going to…"
"Just say your name, Dana," Greg Gutfeld teased.
At the end of the segment, Bolling said he had personally called Schieffer to offer advice: "I called Bob Schieffer today to offer friendly conservative advice. His assistant had me call his two other assistants, Kelly and Sonia. Sonia said she would give Bob the message. My phone hasn't rung all day but I'm still holding out hope. Mr. Schieffer, please."
Watch below, via Fox News:
— —
>>
Follow Andrew Kirell (@AndrewKirell) on Twitter
Have a tip we should know? tips@mediaite.com