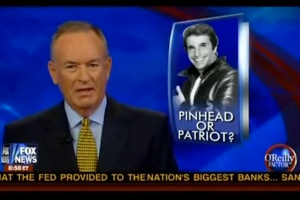 The O'Reilly Factor's "Pinheads and Patriots" segment is usually a lighthearted cherry on top of an hour of heated, often tiring debate. It serves as a thoughtless cool-down exercise after an hour of serious thought. Tonight was no different, except there was serious a lack of "Patriot"ism, with Bill O'Reilly leaving the pinhead or patriot denomination for actor Henry Winkler, who had criticized Sarah Palin, up to "the folks," as he would say.
Winkler, who O'Reilly repeated referred to as "The Fonz" from Happy Days but to a younger generation is probably better known as attorney Barry Zuckercorn from Arrested Development, had called Palin "the most articulate person in her family" and expressed fascination with the fact that someone of, has he put it, "such little knowledge" could have such a following. Rather than call him an all-out pinhead, O'Reilly noted that, to liberals, he's a patriot, but to him, he's just "boring"– which, compared with the way O'Reilly treats other celebrities like Sean Penn or Bruce Springsteen, it's a pretty positive review! Giving him even less grief is the fact that his appearance was followed by a full pinhead nomination for a BBC affiliate.
This isn't the first time O'Reilly leaves a question mark behind "pinhead or patriot," but it's one of the few times he actually leads the segment with an open-ended event, and he has been giving out the titles himself less and less in the past few months. There is no poll attached to the segment– it seems like an unsustainable event for a daily minute-long segment– but there is the indication that O'Reilly merely directs you to make a choice, rather than keeping the power of ridicule to himself, perhaps yet another facet to the long-term softening of O'Reilly's on-air personality.
Video below:

Have a tip we should know? tips@mediaite.com