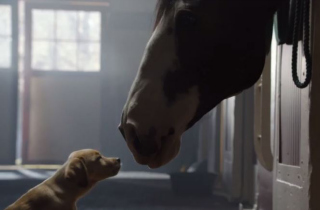 Study after study shows that about half the people who watch the Super Bowl do so for the commercials.
This is especially true this year among the following groups:
– Women outside a 100-mile radius of Colorado and the state of Washington
– Those (few) not in an office pool and/or do not have a financial interest in the game
– Those who work in marketing, advertising or any variation thereof

But what makes a Super Bowl commercial really resonate?
A) A big celebrity spokesperson
B) Spots that tap into nostalgia
C) Adorable animals with a good script
The answer—if recent years are any indication—is B and C.
On the nostalgia front, the projected 110 million Americans tuning in to the game will see spots that include a reunion of the cast of Full House (which went off the air a scant 19 years ago), a possible Seinfeld reunion (just a rumor), Laurence Fishburne back again as Morpheus of Matrix fame (an impossibly overrated trilogy), and Carmen Electra in a Baywatch Babe capacity.
The risk here, of course, is that those in the younger half of the key 25-54 demo may have no idea what Baywatch is, who Joey from Full House represents or why Seinfeld was such a big deal. Nostalgia is fine for 42-year-old geriatrics like me, but not everyone is going to get the joke.
Which leaves us with animals…big and small. Know this: When looking back at the most effective Super Bowl ads of all time—after stripping away Mean Joe Greene's Coke commercial (tossing his jersey to a kid at the end), Apple's "1984" ad (directed by sci-fi legend Ridley Scott) and the Jordan/Bird McDonald's "nothing but net" showdown—it's all about non-humans when it comes to effectiveness and creating a memorable spot.
The Budweiser Frogs ("Bud-Weis-Errrr"). The Budweiser Clydesdales (numerous versions, with the football game between the horses in '96 being the best). The Coke Polar Bears. Pepsi's Dancing Bears. The Doritos Pug. The list goes on…
This year, we'll see no shortage of four-legged creatures on our HDTVs. Budweiser's "Puppy Love" spot—wisely leaked earlier this week—already has over six million views on YouTube. An Audi ad starring a mutant Doberhuahuas is creating buzz as well. And the Muppets make a return for Toyota, creating the deadly combination of nostalgia for fictional animals (if Beeker and the old men in the balcony aren't involved, anyway…).
What we see less and less of are big-time stars being paid big-time money to pitch a product during the country's biggest unofficial holiday. According to research firm Ace Metrix, ads that featured animals were 21 percent more effective with those surveyed than those with celebrities.
Ironic…since we're such a celebrity-obsessed culture. But apparently we're a pet-obsessed culture as well. Why else would 2.6 million—which is much larger than the average audience of most primetime cable news shows—tune into the Puppy Bowl on Animal Planet? The event will even see First Lady Michelle Obama dropping by this year with First Dogs Bo and Sunny.
Luminaries are nice, but invariably expensive. Dogs work cheap. And while celebrities can be polarizing, animals tend to be beloved across all demographics (largely because they don't speak, which is a good thing in today's chatty society).
Super Bowl Sunday is right around the corner.
Weather here in North Jersey will be a balmy 40 degrees at game time.
But hardly a soul (outside of East Rutherford) will be outdoors.
Not when the Broncos and Seahawks promises to be a great game…
Along with a more than a few awesome ads–to keep us the other half tuning in–entertained along the way.
— —
>> Follow Joe Concha on Twitter @ConchaMedia
Have a tip we should know? tips@mediaite.com