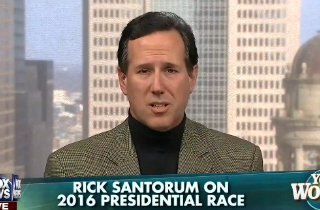 Making it really far too easy for bloggers, anthropomorphized mock turtleneck Rick Santorum told Fox News' Stuart Varney Tuesday night that he wants to "stay involved in the mix" for the 2016 Republican presidential nomination.
The mix is, of course, a frothy and slippery thing, so while he wouldn't come right out and say he intends to once again definitely not win his party's nomination by campaigning on the type of bronze-era family values that served him so well last time out, he'd really like for us to think of him as someone who could, theoretically, if you put your hand over one eye and squint the other just so, look like an actual big boy candidate.
"I'm certainly concerned about this election upcoming, and have left my options on the table for 2016," he said. "And if you're going to leave your options on the table you've got to get around and see people."
Santorum, the legislative game's Haley Joel Osment, is perhaps talking about seeing dead people, because the ones he's really concerned about have all been ghosts for a couple hundred years.
"Anybody that really travelled around with me saw that what I talked about was basic foundational values of this country," he said of his persona as the social values candidate. The basic foundational values of this country, as everyone knows, were antithetical to Obamacare.
That healthcare law is still "the biggest issues confronting our country," he went on. "Not just economically, but also with respect to religious liberty and personal choices and taking care of those that are the least among us."
Taking care of the least among us… by dismantling a system designed to provide them with affordable health care. Although it's possible he may have meant to imply "taking care of them" in the pointing-a-finger-gun-at-his-head sense. Everything is on the table at this early point in the campaign season; that's what makes it so exciting.
To his credit, Santorum says he won't be following Sen. Rand Paul down his #throwbackthursday Lewinsky-trolling. "Having gone through that in the United States Senate, having sat in judgement of the president of impeachment, I'm perfectly willing to put that issue behind us and move onto things that are of deep concern to the American public," he explained. "And there's a lot of things going on right now that we need to be concerned with right now, other than what happened 15 years ago."
Like what happened two hundred years ago.
Watch below, via Fox News:
[h/t TheDC]
—
Luke O'Neil is a self-loathing journalist and blogger in Boston whose work has appeared in Esquire, Slate, The New Republic and many others. Follow him on Twitter (@lukeoneil47).
Have a tip we should know? tips@mediaite.com