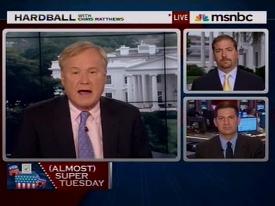 Chris Matthews on MSNBC called it "(Almost) Super Tuesday." Martha MacCallum on Fox News said it's "Semi-Super Tuesday."
Yes, the day is finally upon us. Elections in a few primary Senate races! Let's break out the election night toys, it's time to go full throttle on cable news!
Actually, it isn't as wall-to-wall as an election night – even a really off-year election night like 2009. But all three cable news outlets will have their political coverage ready to go, even if the regularly scheduled programming will remain. On MSNBC, however, all repeat airings will be replaced by more live hours.
Despite the lack of major schedule changes, expect the night to be filled with political coverage, as correspondents are situated in the key states for continuous reporting throughout the evening. As Spud of InsideCable News asked on Twitter, "When was the last time the cable nets devoted this sort of coverage to an off year primary? Never, that's when."
Well it's a new ballgame, after those huge ratings in 2007 and 2008 for cable news' political focus. Let's do a quick breakdown of the races you'll be hearing about today and tonight, ranking each on a scale of 1 to 10 Magic Walls (the new, key ingredient to election coverage). 10 Magic Walls means 2008 Presidential Election, 1 Magic Wall means something boring, like Nashville flooding.
• Pennsylvania: (D) Arlen Spector vs. Joe Sestak – Six Magic Walls:






– Can Arlen Spector really lose? What could Pres. Obama/VP Biden have done to help him? Why didn't they? Will the weather hurt turnout and hurt Spector?
• Kentucky: (R) Rand Paul vs. Trey Grayson – Four Magic Walls:




– Will this be called a "tea party" victory? Does the "Paul" name really help? Will Sarah Palin take a victory lap?
• Arkansas: (D) Blanche Lincoln vs. Bill Halter – Three Magic Walls:



– Will there be a runoff no matter what the result is? Does a Lincoln loss tease a November anti-incumbency result?
Are you excited yet? If not, stay political with the rest of the big news – Richard Blumenthal's non-Vietnam record and Rep. Souder's affair/resignation.
—–
» Follow Steve Krakauer on Twitter
Have a tip we should know? tips@mediaite.com