The Greg Gutfeld Show May Already Have Too Many Challenges to Overcome — Here's Why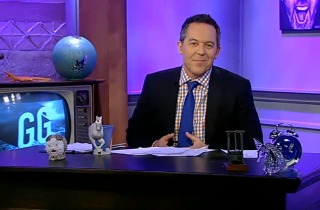 Upon absorbing The Greg Gutfeld Show for its first two weeks, there's only one conclusion that can be drawn:
The program has some very big challenges ahead, and it has nothing really to do with the host, cast, or content. New shows take time to gel, find their voice, establish chemistry — so we'll sidestep the actual content seen for the first two weeks in an effort to be fair. If you disagree with that decision, try watching the first two episodes of Seinfeld sometime… you'll barely recognize it.
For starters and most glaring, the timeslot (Sunday, 10:00 PM ET) for The Greg Gutfeld Show is a nightmare for this exact kind of offering. It's wedged in-between (for now) HBO's dominant Game of Thrones (which will be replaced by the promising Ballers on June 21, starring Dwayne "The Rock" Johnson) and John Oliver's Last Week Tonight, which is only the best comedy news show on television right now.
Gutfeld could argue his offering is somehow a conservative appetizer to Oliver, but there's several problems with that argument:
For starters, Last Week isn't exactly liberal. It's certainly not conservative, either. It's just smart. And American politics in the cable news sense (2016! Hillary! Jeb! Marco! Bernie!) are rarely discussed. Corporations and ludicrous laws of this country and others, however, are. And in deep-diving on the absurdity of everything from big pharma to big tobacco to friggin' FIFA with a lethal combination of unique information, biting comedy, and unmatched energy, Oliver nails it without fail, and the numbers back it up. Come September, it only gets worse for Team Gutfeld when Sunday night Football begins on NBC. If there's one cable network SFN drains the most audience from, it's Fox News. The NBA Finals in the short-term isn't helping matters, either.
It's early being only two episodes in, that's understood. But the show is already experiencing what one would call unacceptable numbers in Fox's world. Note: Every program isn't just expected to win its time slot; it's expected to bury CNN, HLN, and MSNBC by 2-3-4-5-to-1 margins. And in Gutfeld's case, it's been quite the opposite. Week 1 of the show (May 31) saw it finish fourth in the key 25-54 demo (out of 4). Week 2 saw it finish third. Problem is: The Greg Gutfeld Show is competing against taped programming (a second hour of something called Sex Slaves on MSNBC, CNN's High Profits, and old Forensic Files on HLN), and it's still getting beat. That could change, but not as the show is currently structured behind the scenes.
Second big hurdle: Political satire shows like Oliver's (or Jon Stewart's or Larry Wilmore's or Bill Maher's) happen to have 7-14 comedy writers at their disposal depending on the program. And not just any writers, but the very best in terms of political satire on television. The proof is on the viral video front, where Oliver's FIFA takedown alone has been downloaded more than 11 million times. The Greg Gutfeld Show doesn't compete directly with those programs, but it's in the same niche, same genre. Do you think Gutfeld and Co. have that stabile of top writing resources at its disposal? As the old saying goes, "Dying is easy. Comedy is hard."
Third hurdle: Guests. No, Gutfeld isn't going to land the big-time Hollywood celebrities — that's understood. Nor does he really want to given the anti-Hollywood/establishment underbelly of the show. To that end, most will come from inside the Fox News universe of contributions and guests. And that's fine, but Gutfeld shouldn't just settle on that. Paul Sorvino (Week 2) is nice as a cameo if it were 25 years ago. Donald Trump (Week 1) is fine, albeit a tad overexposed (just a tad). But there's an opportunity here to aim higher. Big guests are going in and out of the building all the time. Poach. Beg. Borrow. Pre-tape elsewhere during the week, if necessary. It's the advantage of being a once-a-week show.
Fourth hurdle: No studio audience. Energy and vibe are critical to any comedy/talk show's success. Not having one here is a mistake (or a budgetary/logistical issue). Of course, the argument can be made that Red Eye flourished without a studio audience, but its 3:00 a.m. ET slot, by default, has a late-night, post-closing time intimacy to it. 10:00 p.m., the time where the new show airs? Different ball game. The Hollywood Reporter asked Gutfeld if a studio audience is in the cards. And while he said before the show launched that he would consider it and agrees an audience is "good for energy and instant feedback," he adds, "I don't think I need any more energy at all."
As for The Greg Gutfeld Show itself, in terms of casting, it should be noted the host rose to where he is (Red Eye host, Five co-host, weekly guest on O'Reilly, best-selling author, distinctive brand) primarily because he invariably brings levity (in hit-or-miss fashion) to otherwise-heavier, periodically comedy-free discussions. On The Five, he's Dana Perino's goofy TV boyfriend she quietly and absolutely adores, or Bob Beckel's (before his prolonged absence) wise-ass little brother. On O'Reilly, he's the grown-up kid who gets corrected from the no-nonsense yet somewhat-bemused teacher.
But on The Greg Gutfeld Show, there is no foil, nobody to play off of to underscore the contrast. Suggestions: Add Perino in some permanent capacity or mend fences with repulsive sidekick Bill Schulz, a fan favorite who mysteriously departed Red Eye nearly two years ago obviously on poor terms for whatever reason. Big fans of the program will tell you the show hasn't been the same since.
In the end, a studio audience isn't likely. A timeslot change is not forthcoming, nor are more writers to help the hour sustain itself. And there might not be a proper foil on the Fox bench available to add to cast.
Greg Gutfeld has a new show. And like any new offering, it has its share of challenges…
The question is: Is the stack against it already too high to overcome?
— —
>> Follow Joe Concha (@JoeConchaTV) on Twitter
Have a tip we should know? tips@mediaite.com