The History Of Presidents And Other People's Fingers: Brian Williams Once Pointed At George W. Bush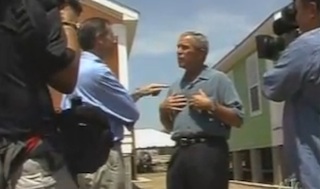 Recently, the most attention has been paid to a politician's finger since that brief period in the 90s when Sen. Bob Dole copied Carson Daly's black nail polish look (Bring it back, Bob! It worked!). The reason? The infamous picture of Jan Brewer either horribly disrespecting the President or pointing out that he has some ear wax buildup. Since that photo surfaced, some commentators have accused the moment of everything from racism to intentional self promotion. But, did you know that a very similar moment occurred a few years back between Brian Williams and George W. Bush?
Yes, the intrepid memories over at at Breitbart.tv have caught this heated 2006 exchange between Williams and then-President Bush about Bush's reading habits. Basically, Williams seems skeptical that the President is really sitting down to read, as he claimed, Albert Camus.
Breitbart.tv is posting the video as proof that finger pointing isn't instant proof of KKK membership, positing "It will be interesting to see if those same media commentators [who critiqued Brewer] will have the same reaction to this gesture made by Brian Williams."
It's an interesting question. We don't have any footage of the Obama/Brewer encounter and the two are giving wildly differing accounts, but is there a comparison here? There's a difference between a media figure and an elected official, sure, but the media response was insanely harsh. Of course, that may have been stoked a bit by Brewer's grandstanding. So, what do you all think?
Of course, the real question is how the Williams video affected Camus' book sales.
Watch the video from NBC below:
(h/t Breitbart.tv)
Have a tip we should know? tips@mediaite.com