The Hunt For… A Good Guest: Alec Baldwin's New Show Oddly Lacking Bigger Stars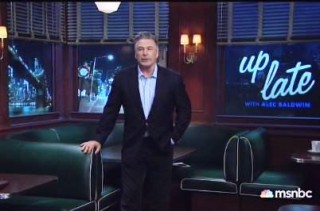 Alec Baldwin is many things to many people. He's vastly talented to some. He's vastly ill-tempered to others. Some see him as a liberal activist. Others see him as simply the guy from the Capital One commercials.
The word that first comes to my mind, however, is "connected". But if the first four weeks of his new MSNBC show, Up Late with Alec Baldwin, are any indication, those connections haven't been tapped yet…if the guest list is the focus, anyway.
Baldwin, now 55, first came onto my radar during my teen years. My friends and I sitting around in a basement with cheap beer, Smartfood and nowhere to go watching Glengarry Glen Ross…for what seemed at first for a lack of a better idea.
It was then that speech came on (below). A Top-5 movie speech of all time, right up there with the Nicholson's lecture to Cruise in A Few Good Men, the Pacino defense of Chris O'Donnell in Scent of a Woman, Gibson's Braveheart doozy, and Jules' (Sam Jackson's) epiphany during a holdup in a diner at the end (so to speak) of Pulp Fiction.
Blake (Baldwin): Let's talk about something important. Put. That coffee. Down. Coffee's for closers only. You think I'm f**ing with you? I am not f***ing with you. I'm here from downtown. I'm here from Mitch and Murray. And I'm here on a mission of mercy. Your name's Levine? You call yourself a salesman you son of a bitch?
Dave Moss (Ed Harris): I don't gotta sit here and listen to this s**t.
Blake: You certainly don't pal, 'cause the good news is – you're fired. The bad news is – you've got, all of you've got just one week to regain your jobs starting with tonight. Starting with tonight's sit. Oh? Have I got your attention now? Good. 'Cause we're adding a little something to this month's sales contest. As you all know first prize is a Cadillac El Dorado. Anyone wanna see second prize? Second prize is a set of steak knives. Third prize is you're fired. Get the picture?
The scene goes on for another five minutes, but you get the idea. Baldwin was well on his way. He would later own a similar scene in the underrated Malice ("You ask if I have a God complex? Let me tell you something…I AM GOD!"). And he would go on to win several Golden Globe Awards for his work on 30 Rock, was nominated for an Academy Award (Best Supporting Actor in The Cooler), nominated for a Tony Award.
Big screen, small screen, stage: Baldwin has pulled off the acting equivalent of a hat trick.
And this leads us to the impetus behind the headline for this column: Why, after four weeks of Up Late, has someone with so many connections, so many favors to call in, friendships…featured the following guests for a national show?
Week 1: Bill de Blasio– Then (unknown to 99 percent of the country) mayoral candidate for New York City.
Week 2: Debra Winger, who was last a big deal in Hollywood sometime around the release of The Hunt for Red October.
Week 3: Chris Matthews: What? Touré or Mika weren't available?
Week 4: Gary Lockwood and Keir Dullea, stars of 2001: A Space Odyssey… a film released, like, 45 years ago.
Look…it's MSNBC at 10:00 PM on a Friday. It's understandable that Clooney and Hanks aren't arm wrestling over who gets to join the show next. But one would think Tina Fey could have done Alec a solid and paid a visit. Baldwin also just turned in a sparkling performance in Woody Allen's Blue Jasmine alongside Cate Blanchett and Andrew Dice Clay. I'm pretty sure I'd take Kate or Clay over Gary Lockwood or Debra Winger. And on the political front, given Baldwin's outspoken support for the Democratic Party, you're telling me Bill Clinton—who never met a microphone he didn't like—wouldn't jump at the chance to get 44 minutes of air time in the friendly confines of Baldwin's diner?
The NBC mothership could lend a hand as well. After all, Baldwin did win two Emmys for 30 Rock. Jimmy Fallon will be replacing Leno soon. A home-and-home interview scenario wouldn't be the worst use of corporate synergy, right? How about NBC Sports' Bob Costas? He always enjoys hearing his opinions on everything and anything outside the sports world. Howard Stern—a good friend of Baldwin's–is a member of the NBC family and always rates regardless of format. Brian Williams—a frequent guest on 30 Rock—also would be willing and able.
As of Wednesday evening, Baldwin's guest for this week is still unknown. How does the network expect to promote a weekly talk show without any advance notice on the guest list?
Perhaps the intent of the show was to be low-key.
But Alec wasn't hired to be low-key at MSNBC. The intent was to bring star-power to a lineup that its President (Phil Griffin) declared would be beating Fox News by the end of this year.
Less Bill de Blasio, more Bill Clinton.
Less Gary Lockwood, more Gary Busey (of NBC's Celebrity Apprentice!)
Alec Baldwin is a star…the winner who drives the Cadillac El Dorado.
Not the guy who settles for a set of steak knives.
— —
>> Follow Joe Concha (@ConchaMedia) on Twitter
Have a tip we should know? tips@mediaite.com