The Incredible Insensitivity Of Sending Martin Bashir To Cover Margaret Thatcher's Funeral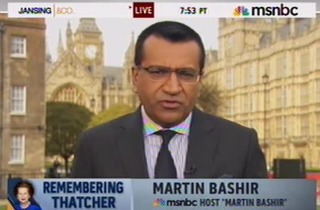 When MSNBC host Martin Bashir disappeared from his post at the helm of his eponymous 4 p.m. program, many assumed that it had something to do with the fact that the first terror attack on U.S. soil since 9/11 had occurred just hours earlier. This was backed up by the fact that his program was guest-anchored by MSNBC's straight news purveyors and not his frequent fill in hosts Karen Finney or Joy-Ann Reid. It was, however, soon revealed that Bashir was "on assignment," but few could have been aware of how inappropriate that assignment would be. Bashir, who had spent the day of former British Prime Minister Margaret Thatcher's death on virtually every program on his network attacking her legacy and accusing her of harboring racial animus, was sent to London as MSNBC's envoy to cover her funeral.

RELATED: Bashir Eulogizes Margaret Thatcher On MSNBC: 'Brutal,' 'Incredibly Divisive,' 'Not That Effective'
Bashir appeared on MSNBC's Morning Joe and with MSNBC anchor Chris Jansing on Wednesday to preview his coverage of Thatcher's funeral in London. The midday host was cautious and respectful in his coverage. He stuck to the details of the funeral, noting the many U.S dignitaries that had attended the service. He also reported that former Vice President Dick Cheney had joined Prime Minister David Cameron for a dinner on the night before the services.
The tone of Bashir's report was so respectful that, unless one had watched his network on the day Thatcher passed away, it would be easy to forget that he had spent the entire day attempting to besmirch her record.
Quoting the former socialist president of France, François Mitterrand, Bashir said that the recently deceased Thatcher "had the eyes of Caligula and mouth of Marilyn Monroe." Furthermore, he said, the former conservative prime minister was responsible for a series of "fairly brutal attacks on the business of journalism."
"She was not very kind to journalists at all, and to our profession," Bashir said on April 8.
"We obviously don't want to speak ill of the recently deceased," Bashir opined later in the day, while proceeding to anyway.
"She regarded Nelson Mandela as a terrorist," Bashir added later in the day. "She was at ease with the notion of apartheid, which — many of us growing up in England as students during her period as prime minister — we were campaigning for the release of Mandela."
Clearly, having grown up in the Thatcher-era in the U.K., Bashir has some strong feelings about the late British PM – feelings which he came by honestly. None should begrudge him his sincere political beliefs. But why his network thought it was appropriate to send someone with such obvious personal conflicts to cover the funeral of a major political figure is a mystery. At the very least, it displays a lack of respect for the memory of the late Margaret Thatcher.
> >Follow Noah Rothman (@NoahCRothman) on Twitter
Have a tip we should know? [email protected]