The Independents Bash Keith Ablow: Michelle Obama Weight Comments 'Tacky' and 'Irresponsible'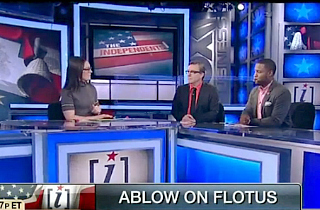 Fox News psychiatric "expert" and all-purpose pundit Keith Ablow has taken plenty of heat from reasonable adults for his remarks that First Lady Michelle Obama could stand to lose a few pounds, but some of the strongest criticism has come from his own colleagues.
As we reported earlier this week, the Dr. Evil of cable news shocked his Outnumbered co-hosts by bashing Obama's figure during a discussion of her public health initiatives. The remark drew gasps and upset comments from the four females on camera at the time, but he later doubled down, explaining that he hates "hypocrisy" and thinks Obama is "obviously not fit" and "hates America."
Fox weather reporter Janice Dean chided her colleague on Twitter, asking him to please refrain from comment on women's weight, k thanks.
And then Wednesday evening on Fox Business Network's The Independents, Ablow's co-host Kennedy (and her FBN co-hosts) took to bashing him as well.
"It's nice to know that Mr. Ablow is an expert on women's weight and how much they should weight," Kmele Foster snarked.
"It was very irresponsible," Kennedy agreed, "especially for a doctor, for a psychiatrist."
"Especially for a dude with that gut," Matt Welch added. "And I'm not throwing rocks here, but I'm also not calling out the First Lady who is in great shape.
The three libertarian hosts all agreed that while the government (and the First Lady) should butt out of parental food choices, there's no reason to make such a "tacky" statement about Obama's weight.
Watch below, via FBN:
— —
>> Follow Andrew Kirell (@AndrewKirell) on Twitter
Have a tip we should know? tips@mediaite.com