The Kudos Files: In Praise Of CNN's Sara Sidner And Her World Class Reportage In Libya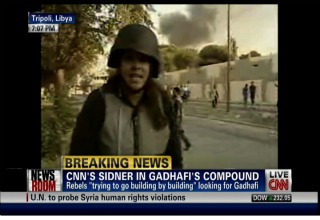 CNN's Sara Sidner has been garnering much positive attention — and rightfully so — for her in-depth, compelling live coverage from Libya, where rebel forces have been clashing with those supporting ousted leader Muammar Gaddafi. While covering the continually unfolding events in Tripoli, Sidner was actually grazed by a bullet wayward shell casing, likely from celebratory gunfire.
Sidner, an international correspondent based in New Delhi, was among the first to report on the goings-on in Libya over the weekend for an American network, offering live coverage from Tripoli's Green Square on Sunday. Earlier today, Sidner, clad in protective gear, reported that rebels had successfully gained entry into Gaddafi's palace. Throughout it all, Sidner has proven herself to be a tenacious, aggressive and downright fearless reporter.
Her CNN bio lists various other compelling stories she's covered throughout her 15-year career in television:
She also covered the visit of President Barack Obama to India, the historic Pakistan floods, the Chile and Haiti earthquakes, Sri Lanka's volatile Presidential elections, a special on victims of Sri Lanka's civil war and elections in Afghanistan. Sidner also reported on the Mumbai terrorist attacks, as they happened, from outside the Taj Mahal Palace and Tower in Mumbai.

Some of her other stories from the region include in-depth coverage of India's first moon mission, massive flooding in North East India and across the border in Nepal, and the devastating Myanmar Cyclone.
Before she joined CNN, Sidner worked as a weekend anchor and reporter for Oakland, California's KTVU-TV.
So, for helping to bring astonishing, up to the minute coverage of a faraway revolution to American viewers (and for not letting something like a little bullet get in the way of her reporting), we say kudos to CNN's Sara Sidner.
And, just to drive home how exceptionally fearless this women truly is, here's the footage of her dodging bullets. All for you, America. All for you:
Have a tip we should know? tips@mediaite.com