The Left Warns Americans Not To Succumb To 9/11-Like Reaction To Boston Marathon Bombing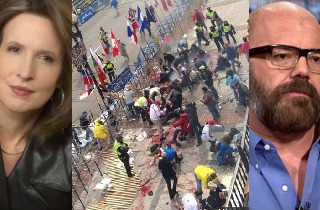 Less than 24-hours after the deadly bombings of Monday's Boston Marathon, some on the political left are preparing to forestall what they see as the inevitable American reaction to this heinous attack – the bloody desire for vengeance. Before the perpetrators of this attack are even known, some on the left are warning that any reaction which goes beyond grieving communitarianism will be an overreaction. Their caution is not entirely without merit; patience and deliberation is virtuous, especially when a nation's response to terrorism is often violent and less discriminating than court-administered justice. One gets the impression, however, that the voices on the left warning against an excessive response to the attacks would be suspect of anything more than a criminal prosecution of the perpetrators. More concerned with their positive self-image than with dissuading future attacks by advocating for a tangible deterrent effect, those backing restraint are doing so less in the interest of Bostonians than in the stewardship of their personal sense of integrity.

RELATED: Former NYC Mayor Rudy Giuliani: 'It's Surprising There Haven't Been More Of These' Attacks Since 9/11
Ever-consistent, MSNBC host Alex Wagner said that the "silver lining" in the Boston attacks can be found in the "sense of community" that has followed the attack.
The Nation magazine editor Katrina vanden Heuvel agreed. She added that she hopes the ultimate response to this act of terror is a measured one. Vanden Heuvel specifically cited America's years-long response to the attacks of 9/11 as an example of an American response to terror that was not measured and was, in fact, disproportionate.
"It is clear that terrorism – terrorists — want to terrorize us," vanden Heuvel said. "My hope is that he community spirit – the resilience of the American people, which the president spoke so well to – is what comes out of this, and not the overreaction to fear, which I think we have seen, for sure, in the wake of 9/11 when this country overreacted."
She scolded the federal government for instituting "un-American" practices and for presiding over "the shredding of principles that make this country great" in the wake of the 9/11 attacks. "I think community, resilience, kindness – those are the great qualities that can make this country strong again," vanden Heuvel concluded.
Riffing off a column by New York Times' opinion writer Ross Douthat in which he notes that the excessive post-9/11 domestic security regime cannot prevent every instance of indiscriminate violence, Daily Dish blogger Andrew Sullivan expressed a similar sentiment. Sullivan opined that only stoicism can deter terrorism.
"We really do have to adopt a more stoic response to these acts of evil," Sullivan writes. "It is the only long-term thing that deprives them of their power."
The sentiments behind both Sullivan and vanden Heuvel's statements are noble, but not entirely evidence-based. Stoicism in the face of terror does not discourage terrorists – it is a challenge. Communitarianism is lovely, but will not prevent a single future terrorist event. These are philosophies designed to aid in the post-attack emotional and physical mending, but they do not prevent the next deadly event. The responses to terrorism are a purely and entirely solipsistic. Self-affirmations are no way to combat a deadly threat.
Whether the perpetrators responsible for this action are domestic or foreign, it is not a barbaric desire to see justice meted out in the measure it was meted out to the peaceful attendees of yesterday's Boston Marathon. Those with this desire are as noble as those advocating restraint, if only because they are not lost in their own minds. Their desire for an external response, rather than an internal one, is laudable and infrequently praised. Rather than stewarding their self-image, those good people simply desire retribution for the dead.
> >Follow Noah Rothman (@NoahCRothman) on Twitter
Have a tip we should know? tips@mediaite.com