The Lego Movie is 'Anti-Business' According to Fox Business Network
Wilstein:
The Lego Movie
is 'Anti-Business' According to Fox Business Network
First it was The Muppets. Then it was The Lorax. Now, the Fox Business Network has found another children's movie that is clearly promoting an "anti-business" agenda. Ladies and gentlemen, beware The Lego Movie.
The first thing you need to know, according to Fox Business host Charles Payne, is that the film features a character who is actually named President Business. He's voiced by Will Ferrell and "looks a little bit like Mitt Romney."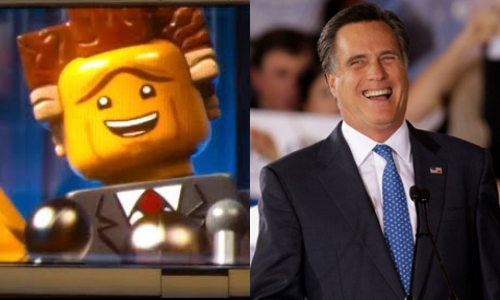 "Listen, Hollywood has its own agenda, and we're kind of used to this" Payne conceded. "But it feels a little bit more threatening when they start to push this out to our kids over and over."
When his media analyst guest suggested that a CEO can be an "easy target" when screenwriters are looking for villains, Payne was having none of it. "Why is the head of a corporation, where they hire people, people go to work, they pay their rent, their mortgage, they put their kids through college, they feed their families, they give to charities, they give to churches—why would the CEO be an easy target?" he asked indignantly.
When it was contributor Monica Crowley's turn to chime in, she decried Hollywood's long history of "anti-Capitalist" movies. In fact, she had to go all the way back to 1946's It's a Wonderful Life to make the point that movies, in general, hate rich people. She then used the logic that "Hollywood" must think The Lego Movie is going to make a ton of money "no matter what" so they might as well "embed these kinds of anti-Capitalist messages and get away with it." They must have made that decision at last year's big "Hollywood" meeting.
By the end of the segment, Payne had concluded that the whole thing "smacks of hypocrisy" and "there's definitely something wrong with it for sure," but he did not seem quite ready to define what that is.
The Lego Movie exists for one reason and one reason only — and it's not to entertain small children. The idea that a film designed solely to sell more Lego toys could be anti-Capitalist would be laughable coming from anyone, let alone a television network that proclaims to employ experts in the subject of business.
If kids take away any major message from The Lego Movie this weekend, it's likely to be something along the lines of "Buy me Legos!"
Watch video below, via FBN:
[h/t A.V. Club]
[photo via screengrab]
— —
>> Follow Matt Wilstein (@TheMattWilstein) on Twitter
Have a tip we should know? tips@mediaite.com