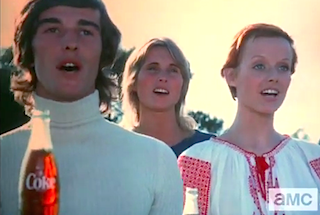 Warning: Spoilers for last night's series finale below.
While some are still trying to find hidden meaning in the final moments of Mad Men's series finale, the most logical and widely accepted conclusion is that Don Draper had his spiritual awakening above the cliffs of Big Sur and used his newfound serenity to return to McCann Erickson and create the iconic "I'd Like to Buy the World a Coke" commercial for one of the agency's biggest clients, Coca-Cola, which was dangled in front of him as a prize earlier in this half-season.
The ad, titled "Hilltop," made its debut in 1971, giving the fictional Draper just enough to make his vision a reality — after delivering a ton of apologies — upon his return to New York.
But who actually came up with the idea for the Coca-Cola ad? That would be Bill Backer, who, despite apparently being the real Don Draper, did not watch last night's episode. Reached for comment by CNN's Tom Kludt, Backer, "I don't care. I didn't see it."
While Backer watched the first two seasons of Mad Men, he eventually gave up, saying he felt it become too much of a "soap opera." He added, "It had become more about the tangled lives of the people and less about the industry they were working in and presenting the ads in ways that was attention-getting, and hopefully uplifting and fun to watch."
Back in 2011, Coca-Cola interviewed Backer about creating the ad, which he said had the "biggest impact" of anything commercial he ever made. Watch that interview below:
And you can relive the final scene of Mad Men below, via AMC:
[Photo via screengrab]
— —
>> Follow Matt Wilstein (@TheMattWilstein) on Twitter
Have a tip we should know? tips@mediaite.com