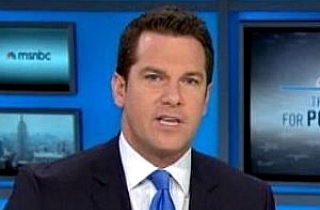 On Friday, MSNBC announced that MSNBC Live anchor Thomas Roberts will be taking over Way Too Early, the 5:30 am show that precedes Morning Joe. On this special occasion, Roberts agreed to a Mediaite Q&A on the move, how it will affect husband Patrick Abner, what it means for Roberts's future, and whether or not there was a Noah Rothman-related motive involved, among other things. Roberts' new gig begins at 5:30 am sharp on Monday, Jan. 13, but here's a little taste of what you, and Roberts, can expect.
Mediaite: How early will you have to get up in order to host the show? What's the tick-tock? (wake up time, breakfast, take the train? show prep, etc)
Thomas Roberts: I will get up around 3:30am. I am not a big breakfast guy – I am more coffee and yogurt man! I live in midtown so getting to 30 Rock is a breeze.
M: How does Patrick feel about the new schedule?
TR: Patrick says…"We are early risers anyway…so now we will get up earlier. It just means we will have to take our naps at 10am instead of 2pm."
We are big nappers. But Patrick already has ear plugs and a sleep mask and I highly doubt he will get up with me at 3:30a.
M: How extensive will your participation in Morning Joe be?
TR: I love the morning family and I hope to be around to participate a lot. I am a huge fan of Joe, Mika and the "Morning Joe" team. Plus, I adore Willie and honored to take over the show he created. SO this is a dream job.
M: Scarborough said this was based on merit, not "political correctness," but there are folks in the internet ethers wondering if this is a demotion, how do you respond to that?
TR: If joining the smartest, most fun political news show on modern day television is a demotion I will grin and bear it.
M: What about the idea that this is a way to defuse criticism of the network's dayside news programming as left-skewing?
TR: That is news to me.
M: Is this all just a ruse to deprive Noah Rothman of sleep?
TR: I am a Noah fan. I just wish he would use my handle @thomasaroberts when he tweets about me. He always leaves me out :(
M: Who's taking over your old slot? Who would you like to see there?
TR: I am not sure who is taking over – I'll leave that to my boss Phil Griffin to figure out
M: Do you know who your new timeslot competitors will be, and would you like to throw down a little trash talk?
TR: I don't know them all personally but I have to give props to anyone who has to get up that early.
M: Will this change allow you to focus on other projects, and what are they?
TR: I am a big fan of getting in the field…so hopefully this allows more flexibility for that.
M: Do you have any predictions or wishes for what you'll be covering in 2014?
TR: Midterms, midterms, midterms…and 2016!
M: How long do you think it will be until marriage equality extends to all 50 states?
TR: Marriage Equality is moving quite quickly from state to state…I wouldn't be surprised if by 2020 we dont see 90% of states passing marriage equality laws.
Have a tip we should know? tips@mediaite.com