'The Media's on Trial Here, Too': MSNBC Guests Call for 'Independent Investigation' of CBS News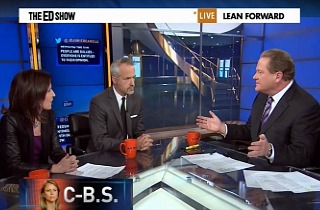 MSNBC host Ed Schultz and his guests called for an "independent investigation" into CBS News after it was revealed that they aired a false report in which a source misled them into believing that he was on the ground on the night of a deadly attack on an American consulate in Benghazi. "The media's on trial here, too," insisted one guest.

Schultz began the report by recounting how CBS News let anchor Dan Rather go after he repeatedly reported that President George W. Bush received special treatment while he served in the National Guard. "My question is, where's the conservative outrage now?" Schultz asked.
"Journalistic justice," he continued. "Katrina, has it been done?"
"No, it hasn't been done," insisted The Nation editor Katrina vanden Heuvel. "Do conservatives have an egregious double standard toward truth? Does reality have a liberal bias?"
She called for an "independent investigation" into CBS News and 60 Minutes "as there was in 2004."
RELATED: CBS Source: 60 Minutes' Editorial Independence in Doubt After Benghazi Story
"Let's face it, the media's on trial here, too," she continued.
Media Matters editor Eric Boehlert agreed with vanden Heuvel's assessment. "If CBS wants to get to the bottom of this, they need to do an outside review," he insisted.
"It's a crisis," vanden Heuvel added. "Do we need a lapdog media in this country or do we need a watchdog media?"
Schultz asked if this scandal would result in Republican politicians backing off their Benghazi "witch-hunt." Both guests agreed that it would not.
Watch the clip below via MSNBC:
Visit NBCNews.com for breaking news, world news, and news about the economy
[Photo via screen grab ]
— —
> >Follow Noah Rothman (@NoahCRothman) on Twitter
Have a tip we should know? [email protected]