The Nation's Dave Zirin On MSNBC: NFL Inspecting Players For Gang Tattoos Is Racist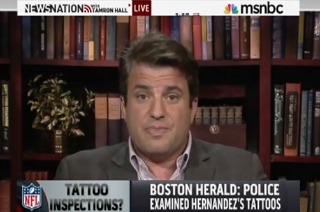 The Nation's sports blogger Dave Zirin appeared on MSNBC with Tamron Hall on Thursday to discuss the measures the National Football League is taking to ensure prevent the league from signing potentially violent players like Aaron Hernandez in the future. Hernandez is currently facing charges of first-degree murder in the death of a 27-year-old semi-pro football player. Zirin said that the NFL's plan to inspect players for gang tattoos will probably, and rightly, be construed as a racist policy improperly targeting African-American players.

"It's the NFL's worst idea since helmets without facemasks," Zirin said of the NFL's policy of checking players for gang tattoos.
Zirin found irony in the fact that a league "based on highly commodified violence" would squirm over the prospect of its players engaging in murderous acts outside the locker room. "It means that the NFL would be judging their prospective employees and people they are going to make millionaires as possible gang members without any proof whatsoever," Zirin added.
RELATED: The Nation Sports Writer On Gay NBA Player: 'Massively Huge,' 'No Words For How Historic This Is'
"This is going to be tagged for very good reason as racist, and race — certainly – motivated," he continued. "The only reason for this is an overreaction after what took place with Aaron Hernandez."
Zirin said that there is little proof that Hernandez was ever a member of the gang known as "the Bristol [Connecticut] Bloods." He dismissed the threat posed by the gang Hernandez was alleged to have been a member of, saying it sounds "only slightly more scary than something Arthur Fonzarelli would have been in."
Watch the clip below via MSNBC:
> >Follow Noah Rothman (@NoahCRothman) on Twitter
Have a tip we should know? tips@mediaite.com