The 'New Tone' in Action: Keith Olbermann Forswears 'Death Panel' in Arizona Transplant Segment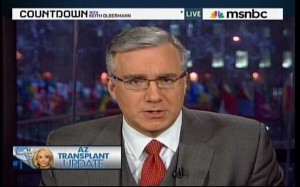 In his own effort to ratchet down the temperature of political rhetoric, Countdown host Keith Olbermann seems to be putting his money where his mouth is. For months, he has been satirizing Sarah Palin by referring to Arizona Governor Jan Brewer's cuts to organ transplant funding as the "Arizona Death Panel."
However, in the first such segment since he swore off any and all references to violence, and ended his "Worst Persons" segment (in name, at least), Olbermann didn't use the term "death panel" once in discussing the cuts with the great-granddaughter of Franklin D. Roosevelt, Kate Roosevelt. Olbermann's consistency is admirable, but in my view, ill-advised.
Since this "change the tone" meme has emerged this week, I have maintained that any re-drawing of the lines in our political discourse should be done with a microsurgery laser, not a chainsaw. This segment illustrates my point perfectly.
The work that Keith Olbermann has done to shine a light on the situation in Arizona has been damn near heroic, and the "death panel" metaphor has served him well in this cause. It simultaneously puts the lie to the widely-disseminated claim by Sarah Palin, while harnessing the very energy that allowed it to spread. The contrast is evident in this clip, where the only appearance of "death panel" is in a brief review of prior segments, which all included the "Arizona Death Panel" chyron.
The end result of Olbermann's coverage will, hopefully, be a restoration of transplant funding in Arizona, and if calling it a "death panel" helps to accomplish that, he ought to continue to do it. Powerful metaphors exist for a reason. The pen is, indeed, mightier than the sword, but not if you encase it in bubble-wrap.
Have a tip we should know? tips@mediaite.com