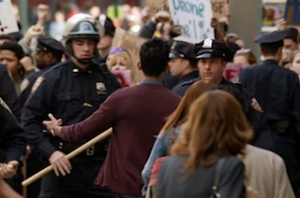 Episode two of The Newsroom's second season opens with the ominously uplifting voice of Mitt Romney, criticizing President Obama's jobs policy in August 2011. Jim is still having trouble getting on the Romney campaign bus in New Hampshire, but fortunately for him Grace Gummer (daughter of Meryl Streep) as fellow reporter Hallie Shea throws him a bone and lets him in on the fun.
Meanwhile, back in New York Maggie is sleeping in the News Night office post-break-up with Don. She recruits her new gym buddy Sloane to go on an unlikely, Foursquare-driven journey to Queens to try to get the girl who posted the YouTube video of her confessing her love to Jim removed before her former roommate, and Jim's current girlfriend gets a chance to see it. Only after Sloane promises the slightly-unhinged Sex and the City fan fiction writer a plug to her 400K+ Twitter followers, does the girl acquiesce. Later, Maggie moves on to more important pursuits like planning her fateful trip to Kampala, Uganda, where, as we learned last week, something terrible happens to her. She only gets her executive producer MacKenzie to agree to the trip after she has the prescient realization that the "War on Terror is shifting to Africa."
As the 10th anniversary of 9/11 approaches, Will "I'm bad news right now" McAvoy admits he was being "reductive" when he compared the tea party to the Taliban during his explanation to his staff on why he won't be anchoring the coverage. "The tea party doesn't throw acid in people's faces," he says, by way of example. When a couple of engineers start putting together ACN's special, we conveniently get to flashback another 10 years to 9/11 2001, which just happened to be Will's first day in the anchor chair. A visibly exhausted and distraught Will tells viewers, "I don't know what I'm doing" but promises to be with viewers all night. After Will catches a glimpse of his former self in the monitors, he goes home and begins Googling "Will McAvoy Hate" to see just how far he's fallen in many people's estimation since he grew a conscience.
The other big news story of the week is the pending execution of Georgia man Troy Davis, who apparently has been an obsession of Don's for the last decade. Don spends most of the episode pressuring Will and the rest of the ACN team to dedicate more coverage to the Davis story on hopes that he will be granted clemency. The story was arguably under-reported leading up to Davis' execution in late September 2011, a fact that Aaron Sorkin both attempts to remedy and acknowledges the challenges within.
But the big climax of the episode comes with Neal's arrest at Zuccotti Park. While Mac and the rest of his ACN colleagues mock his interest in "Flip and fry Wall Street" (or is it "Fluff and fold Wall Street"?), he eventually proves them wrong by showing up to cover Occupy Wall Street's first week and immediately getting arrested. Neal does manage to live-stream video of the arrests from his phone back to the office. Will uses the damning footage to personally get Neal's arrest voided.
One particularly clever touch during the OWS sequence, was the revelation that Neal's source was the origin of the infamous rumor that Radiohead was going to play a surprise show at the September 30th protest. Whereas in real life, the only explanation was the OWS got "hoaxed," on The Newsroom, it was all a ploy to get Neal to show up and share his footage with the world.
The season-long arc about Operation Genoa, which got major play in the premiere, was only hinted at here and there on last night's episode. New producer Jerry is seen pushing it to MacKenzie, who foresees the "libelous" story he's pitching early in the hour. By the end of the show, as somber Troy Davis execution coverage plays in the background, Jerry helps Mac get the confirmation she needs from retired Sgt. Eric Sweeney, who was there when the U.S. used sarin gas on Pakistani civilians. "They're all dead," he tells her.
You know it's 2011 because…
Maggie uses Foursquare to track down the girl who posted video, who checked in at a laundromat in Queens.
One News Night staffer thinks the Anonymous Guy Fawkes masks are Salvador Dali.
Another one asks, "Does anyone know who Anwar al-Awlaki is?" ACN president Charlie sums it up: "I don't care that he's dead, I care that we killed him."
Reporters are actually taking Rick Perry seriously. Only Hallie sees the light: "Eventually he's going to have to speak."
—
>> Follow Matt Wilstein (@TheMattWilstein) on Twitter
Have a tip we should know? tips@mediaite.com