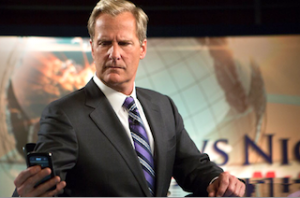 I knew it wasn't going to be easy to follow last night's bombshell Breaking Bad semi-season premiere with episode five of The Newsroom. And while Aaron Sorkin's consistently inconsistent show could never touch the brilliant intensity of Vince Gilligan's, last night's episode was hands-down the best of the season and quite possibly the best of the series. And it was all because it took place in real time, as the episode's title indicated, during one full taping of "News Night With Will McAvoy."
Yes, this was The Newsroom's version of a bottle episode, but instead of the characters being claustrophobic-ly stuck in a meth lab with a fly or a study room with a monkey, the News Night crew was right where they were supposed to be, delivering the news at 8pm on the night of March 16th, 2012. With the real time constraints in place, the show can't resort to its usual flashback nonsense and must instead stick to the news of the day.
Which Will is trying to do when the episode opens, but with five seconds to go until he is set to go on air, he cell phone lights up with the words "Dad" and he has a minor panic attack. For the rest of the episode he struggles with how to deal with this disturbing development, which gets even more complicated after he discovers his father is in the hospital after having a heart attack.
But the much bigger problem on Will's egocentric mind comes from Neal, who is paying far less attention to Occupy Wall Street after miraculously discovering the #NewsNight hashtag on Twitter. As good as this episode was, there is a major problem when the show's resident web guy never thought to look at the #NewsNight hashtag until a random New York Post reporter used it in a tweet sent to Will. After Neal tells Will that the woman is claiming he was "cold" to her in a restaurant, he reveals to Mac that this caused him to start looking at other tweets using the hashtag #NewsNight. This leads to a tweet from the guest who's waiting the greenroom, the head of the Rutgers Gay-Straight Alliance, who hints at his plans to come out on the show in solidarity with his classmate Tyler Clementi. So, not only does Neal not check out the show's hashtag, but it also doesn't occur to him to check on what the show's guests are tweeting from the green room?
In other technologically illiterate news, Maggie briefly pretends she doesn't know what "download" means (which would not be unheard of for the female characters on this show). Five months have passed since the African trauma of episode four, and Maggie is desperately trying to download the George Zimmerman 911 call that's just hit the web. She appears to be doing OK emotionally and even still has her long, blonde hair intact. But wait, Jim, who's officially out of New Hampshire and off the Romney beat, smells alcohol on her breath, suggesting she switch to vodka when she wants to drink on the job so less people will notice.
Maggie and Jim spend most of the hour making small talk about Sandra Fluke, Rush Limbaugh and the concept of "sluts" as the percentage of the 911 download slowly ticks up (how slow was the internet in 2012?) As the download inches its way to 100%, we slowly realize that a rewrite of NBC's misleading Zimmerman 911 edit is coming. In this version of the story, it was ACN's PTSD'd Maggie who made the exact same edit as NBC, making it sound like Zimmerman volunteered the info that Trayvon Martin "looks black" rather than give it as an answer to the operator's question about Martin's race. Maggie insists she only cut the operator's question for time and was not trying to "seek justice." After all, it was probably just because she was drunk.
But instead of burying the the retraction, News Night takes a higher ethical ground, bumping the Rutgers student to air the full 911 call at the end of the show. And it's definitely not because Mac's homophobic. And she tells the kid who just wanted to tell his parents he was gay while they weren't in the room, "I saw a video online, it gets better."
The one other story borrowed from the real headlines and transported to the world of ACN comes from Don, who it turns out jokingly told a conservative friend of his that the president's solicitor general nominee recently made a speech to the "Daughters of Jihadi Excellence," a fact that later works it way onto WorldNetDaily's conspiracy-theory driven site. Rather than rewrite history on this one, Sorkin just wholesale lifted the Chuck Hagel "Friends of Hamas" story. Don takes on the role of the New York Daily News' Dan Friedman, who made a similar joke about Hagel that ended up as a Breitbart.com exclusive. I guess this media story was just too hilarious for Sorkin to leave out of The Newsroom.
The other, slightly less intriguing story lines this week included the leaked nude photos of Olivia Munn's Sloane (only seen in obscure blur), the "Baba Booey"-inspired prank call from "Syria" and the latest developments in Operation Genoa. On that front, Charlie is finally convinced when his mysterious government source comes into the office asking questions about chemical weapons and using a "hypothetical" situation to defend the U.S.'s actions. "It happened," Charlie tells Mac after the meeting. "And I'm going to prove it." The episode ends with Will finding out his father died seconds before attempting to issue the Zimmerman correction. He sits there silent for several seconds as the control room panics before saying, cryptically, "Well, I guess it's just us now."
Other things Neal may have missed on the #NewsNight hashtag:
Will burns Newt: If Gingrich can set the price of gas, "why doesn't he set it at a buck seventy-five? How'd he settle on $2.50"
BuzzFeed gets a shout-out. They picked up the story about Will being rude in the restaurant from Twitter. What, no love for Twitchy? (Michelle Malkin's right-wing Twitter gossip site had just launched that month.)
Charlie Skinner was in a college a cappella groups called The Whiskey Sodas.
Something similar to Sloane's naked picture incident happened to actress Alison Pill not too long ago. Could this have been the show's way of subtly addressing that story? And was Maggie's snide comment about HuffPost's sideboob articles another hint in that direction?
To see how the Today Show handled the Zimmerman 911 call, watch this video below:
[Image via HBOGo.com]
—
>> Follow Matt Wilstein (@TheMattWilstein) on Twitter
Have a tip we should know? tips@mediaite.com