The Newsroom's Aaron Sorkin: 'News Shows Should Be Exempt From Having To Deliver Ratings'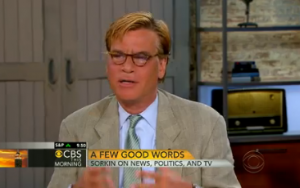 Appearing on CBS This Morning, Aaron Sorkin sat down to chat with Charlie Rose and Gayle King about his new HBO show, as well as the state of the media. Asked about any prescriptions he had for struggling CNN, Sorkin conceded he doesn't know much about cable news. What he deals with, he said, is the fictional, idealistic media landscape.
With The Newsroom, Sorkin said he set out to do "His Girl Friday against the backdrop of real-world events." He professed that the show even treats the news "romantically and idealistically," a story about underdogs.
To that point, King asked whether this script is a reflection of how Sorkin feels about the media landscape. He's a storyteller, he said — offering up the movie Moneyball as an example. It was a movie about a guy who was trying to change baseball, Sorkin said, but he himself wasn't trying to change baseball.
Rose then asked Sorkin about David Carr's column in the New York Times in which Carr wrote about The Newsroom "as a map for CNN." Sorkin quipped, "I think David Carr's piece won me a lot of friends at CNN." He went on to add, "I don't know anything about cable news" (in agreement with the sentiment expressed in many of the show's dismal reviews).
The Newsroom example, he said, would work very well in the fictional world. "I think that The Newsroom looks and feels real, and is almost within our grasp, and that is what makes it aspirational," he noted.
Asked about the ratings struggle, Sorkin said, "News shows should be exempt from having to deliver ratings," Sorkin said. "In the old days there was a firewall between the entertainment division and the news division."
News used to be a public service, he said. It wasn't intended to make money.
Take a look at the segment, via CBS:

(H/T TVNewser)
Have a tip we should know? tips@mediaite.com