The Obama Tape Dud: Republicans Relitigate 2008 While Democrats And Voters Focus On 2012
Obama Tape Dud: GOP Relitigates 2008 While Dems And Voters Focus On 2012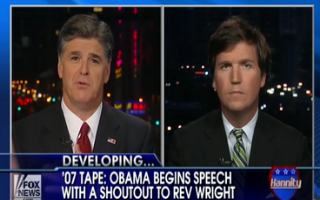 It's a familiar story. A tape of President Barack Obama from his pre-presidential days that was never thoroughly examined surfaces. It is billed as a game-changing development that promises to upend how most people think about Obama. When the tape airs, though, it does not quite live up to the hype. That story was repeated on Tuesday night as a video of Obama addressing a crowd at Hampton University in 2007 was teased into a froth on Twitter and the Drudge report, landed with a thud on Hannity and was promptly disavowed by the Romney campaign and forgotten by Drudge. So, was this episode just a misfire in the broader effort to make the case against the president or is there something else motivating conservatives which led to this misadventure?
RELATED: Fox News 'Exposes' The Most Awesome Barack Obama Speech Ever…That Fox 'Covered Up'
Sean Hannity and The Daily Caller co-founder Tucker Carlson made it clear last night as they aired the Hampton University speech for the first time that, while portions of the tap had aired on Fox and MSNBC years ago, the entire speech was never thoroughly examined in the press. In fact, Hannity and Carlson spent more time being critical of the media for overlooking this tape during the 2008 election cycle than they were of the substance and style of the president's speech itself.
And that is what is most telling. The media's dereliction of their responsibility to thoroughly vet President Obama as a candidate still stings for many conservatives. Republicans felt, and many continue to feel, seriously mistreated by the press in the 2008 cycle — for many, those wounds are still fresh. Last night, Hannity and Carlson presented further evidence intended to indict the press for their lack of interest in anything that could be considered critical coverage of then-Senator Obama.
But if the mission of conservatives in the post-2008 world was to create a lasting mistrust of the media among the general public, they have succeeded wildly. A Gallup poll from last month shows public mistrust of the press has reached a record high – 60 percent, in fact.
What's more, conservatives have won some highly respected members of the press to their side of that argument. Some respected members of the press corps will admit that they did an objectively poor job of covering Obama in 2008, a few will even admit that his 2012 campaign has not been particularly well covered in a critical fashion. If the conservative movement set out to make the case that the media failed the public in 2008, that mission is accomplished.
If the media were on the ballot in November, they would probably suffer a historic defeat. But the media is not going to be subject to a public referendum this fall. What do conservatives think they will accomplish in 2012 by consistently and incessantly submitting evidence which proves the press failed in their jobs in 2008?
The tape in question is newsworthy. It should have been covered in 2008. But it was not and that election is behind us. Republicans would do well to focus on the issues of 2012, because the Democrats, the media and persuadable voters have moved on long ago.
> >Follow Noah Rothman (@Noah_C_Rothman) on Twitter
Have a tip we should know? tips@mediaite.com