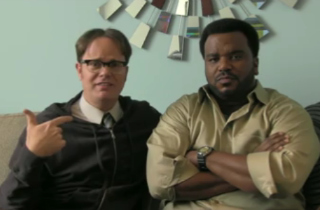 It was the Seventh Day Adventist video blog that will live in infamy.
Two and a Half Men co-star Angus T. Jones told a church that he hates the very sitcom that has made him a gazillionaire, and wishes everyone would stop watching that "filth." Former co-star Charlie Sheen weighed in; and eventually Jones apologized, claiming "no disrespect" meant.
But the damage was done. And now… parody videos abound!
The most notable one comes from NBC's The Office star Rainn Wilson — a.k.a Dwight Schrute — who sat on a similar couch in a similar position as Jones, and gave a nice big bro-five with co-star Craig Robinson standing in as the Seventh Day Adventist interlocutor.
Nearly word for word, Wilson spoofed the Jones video:
Dwight from The Office is nothing, okay? The Office is nothing, alright? If you watch The Office, please don't watch The Office. I'm on The Office. It's filth. And that filth will rot your brain.
Spoofiness aside, he may have a point… if we're talking only about post-Steve Carell seasons of The Office. AMIRIGHT?
It soon becomes clear, however, that Wilson and Robinson had ulterior motives for wasting time to make this parody video: promoting the final season of The Office:
Take it from me, who's on The Office. Please don't watch it. Okay? Thursday nights at nine o'clock, on NBC. Do not watch this final season. Or that filth will rot your brain. … Do some research on the effects of TV on your brain, and you'll see that The Office, this Thursday night, 9 p.m. on NBC, 8 central, is the epitome — it's the enemy. It is completely the enemy.
Cute.
Watch below:

[h/t Vulture]
— —
>> Follow Andrew Kirell (@AndrewKirell) on Twitter
Have a tip we should know? tips@mediaite.com