The O'Reilly Factor Producer Ambushes Van Jones At Green Energy Conference In 'Snarky' Piece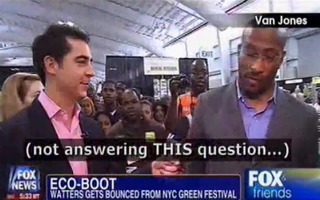 On Wednesday night, The O'Reilly Factor producer Jesse Watters attended a green energy conference in New York City, where he filmed what was described by one conference organizer as a "snarky" package that showcased some of the latest and most questionable green technologies.

RELATED: The O'Reilly Factor Bum Rushes Oscars Guests, Manages Only To Make Them Look Sympathetic

"It turns out spinach is the future of green energy," said Fox & Friends co-host Steve Doocy.
Co-host Gretchen Carlson continued, "the EPA has been awarded a $90,000 grant to Vanderbilt University students. Here's what they're going to do: designed a bio-hybrid solar panel that substitutes a protein from spinach for expensive silicon wafers that are energy intensive to produce and is capable of producing electricity."
Co-host Brian Kilmeade introduced Watters, whose intention at the conference appeared not to be less focused on learning about new technology and more on making light of the conference attendees and their products.
In the package piece, which originally aired on The O'Reilly Factor on Wednesday night, Waters showcased attendees who wanted their homes to be powered by waterfalls, preferred homes made of bamboo or to abandon lawns in favor of gardens.
Watters was able to corner former White House adviser Van Jones. He asked Jones about how the President was doing in his job, to which Jones responded, "I think he's doing very well."
"Oil production going up. Gas use going down. Both sides should be happy with this president," Jones concluded.
Watters moved on to a variety of environmentally-friendly products that he seemed to regard as grossly overpriced or produced with unsavory materials like "elephant dung."
At the end of the piece, Watters was confronted by a conference organizer who accused him of filming a "snarky" piece. Watters told the organizer he was not, when clearly he had. 20 minutes after the confrontation, Watters was escorted out of the center.
Watch the segment below via Fox News Channel:
Have a tip we should know? tips@mediaite.com