'The Pilgrims Were Illegal Aliens': Megyn Kelly Panel Takes On 'Brainwashy' Diversity Training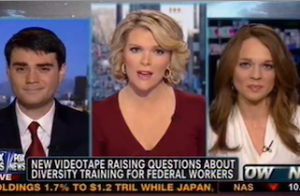 Fox News' Megyn Kelly debuted clips from a diversity training session for USDA workers that "was never supposed to see the light of day" Friday afternoon. In the video, an instructor asks attendees to repeat phrases such as "the pilgrims were illegal aliens" and to embrace the term "emerging majorities" in favor of "minorities." Kelly invited Editor-at-Large for Breitbart News Ben Shapiro and former consultant to the Obama campaign Marjorie Clifton to discuss whether federal funds should be going to programs like this one.
Shapiro immediately shocked the other members of the panel by saying that the "stupidity" on display "sort of makes you wish the asteroid hadn't missed a couple of minutes ago." He admitted that might go a little too far, but added, "what's disturbing about it obviously is the mentality that's being taught — repeat after me, please chant after me, this kind of Orwellion group think — you have to push the idea that certain races are more racist than others."
Kelly agreed that there was something "strange" about asking employees to repeat phrases, noting that the instructor also asked people to say "every federal agency has discriminated against African-Americans, Hispanics, Native American Indians and other groups." She added, "It seems a little brainwashy."
While Clifton conceded that you can critique this particular teacher's "style" she maintained that "spending in this area is important."
Shapiro shot back that the "notion of diversity training in general is very silly." He argued that "the idea you're going to get a incipient Ku Klux Klan member in that room and start telling them to repeat after you that the pilgrims were illegal aliens and suddenly they're going to see the light and not hate minorities is ridiculous. People who are not racist are not going to be racist regardless of diversity training. People who are racist are going to be racist regardless of diversity training."
Again, the two women came together to say that Shapiro was going too far with his statements and that there is a middle ground between "racist" and "not racist." Clifton explained, "I think it's all about awareness. It's not about you're going to change the mind of someone who has a deeply ingrained thinking about a thing. But it's about creating awareness of how it impacts others."
Shapiro was not convinced, saying that these issues should be worked out on an inter-personal level in a business setting and not by spending "hundreds of thousands of dollars to have this moron in there," referring to the instructor from the video.
Watch video below, via Fox News:
—
>> Follow Matt Wilstein (@TheMattWilstein) on Twitter
Have a tip we should know? tips@mediaite.com