The Pointlessness of Every Sunday Political Show Interviewing the Same Person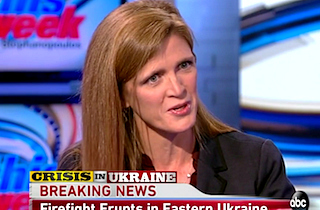 U.N. Ambassador Samantha Power fell two shows short of pulling a full Ginsburg Sunday morning (in which a single figure does all five Sunday political shows), but she got close enough to demonstrate the utter uselessness of spreading a spokesperson out over multiple shows.
Power appeared on Meet the Press, This Week, and Face the Nation, for a total of seventeen minutes. A seventeen minute interview by contemporary media standards is a marathon, but not if it's split up. Instead of a sustained, detailed interview, Power got away three superficial ones: Chuck Todd managed four questions with one follow-up, Bob Schieffer the same, and George Stephanopoulos a comparatively impressive five questions with two follow-ups.
With all three interviewers trying to cover all their bases, many of questions were redundant: Power twice fielded a question about U.N. authorization, twice was questioned on Iran's participation, and got three versions of whether other countries would join air strikes in Syria. Stephanopoulos asked if Obama had "trapped himself" in his anti-ground troop rhetoric; Schieffer wondered if he had "boxed himself in." Power's various answers were, of course, functionally identical; nothing surprised the ambassador off her talking points, as the hosts had no time to depart from the headline questions for which Power had clearly prepared.
In short Power did three interviews but only really gave one. That's a waste, as the devil is always in the details: I for one would like to have heard more about the Syrian Free Army's victories over ISIS that Power breezed past in her Meet the Press interview, as it could have given us more of a clue for how the Syrian rebels might be deployed in the fight against the Sunni militants, an aspect of the Obama administration's strategy that is currently an optimistic fog.
This is certainly not specific to Power. The same has happened when Secretary of State John Kerry has done the recent rounds (to the point that he sometimes has to introduce the news he wants to make during commercial break), or White House Chief of Staff Denis McDonough last week. Perhaps the worst example was the Chris Christie pentablitz last November, in which the then-victorious New Jersey governor skated through all five networks shows bothered by nary a follow-up question — a sycophantic performance that seems especially embarrassing given what happened next.
The idea of a spokesperson hitting multiple shows carries with it an aura of trial by fire: surely, if a politician or administration spokesperson is willing to subject herself to not one but three or five rounds of a national interrogation, she cannot be accused of hiding. (Contrast against the treatment of NFL Commissioner Roger Goodell, who's barely been spotted over the last two weeks.)
But the fire spread out over multiple shows is all light, no heat. One of the ideas behind the myth of Russertism — which has its flaws, but is true enough for today's purposes — is the sustained interview, in which talking points are burned away through the relentless duration of questions, not the speed with which they're fired. It seems pointless to lionize Russert without emulating him.
[Image via screengrab]
——
>> Follow Evan McMurry (@evanmcmurry) on Twitter
Have a tip we should know? tips@mediaite.com