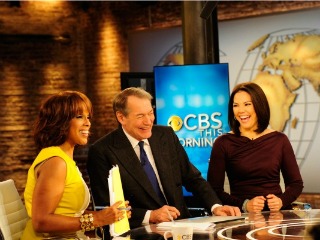 Three months ago, CBS This Morning re-launched as a "newsier" early morning talk show starring veteran interviewer Charlie Rose and radio host / television personality Gayle King, with CBS pouring $40 million into canceling the show's predecessor and hiring well-respected former Morning Joe executive producer Chris Licht in hope of creating some early morning TV magic.
Back in November, the New York Times wrote that the show's new, "revamped" look and feel was a result of failing to "beat NBC's Today and ABC's Good Morning America by imitating those shows."
RELATED: Report: Charlie Rose And Gayle King Set To Join CBS' Early Show
But the new show has continued to struggle, not only against its rival network shows at NBC and ABC, but even against cable news morning fare — like, for example, Fox News' Fox & Friends, which is beating This Morning in six of the top 20 national markets in total viewers (namely Orlando, Tampa, Atlanta, Detroit, Cleveland and Phoenix) and has sustained those market leads since CBS re-launched the show back in January. To be fair, the comparison is a bit "apples and oranges," as CBS more than doubles Fox & Friends' numbers nationwide.
RELATED: CBS This Morning Debuts With Much Fluff Despite Branding Itself As Newsier
In addition, CBS' show is down nationally compared to this same time last year, while Fox & Friends is up 3 percent, beating its cable competition. Here are the numbers, per Nielsen, including how This Morning is stacking up against Today and Good Morning America: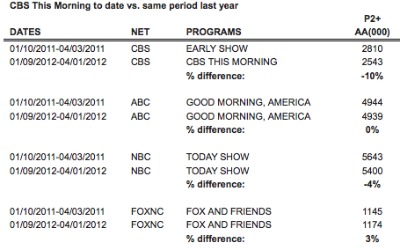 Is it simply a case of growing pains?
Photo via
Have a tip we should know? tips@mediaite.com