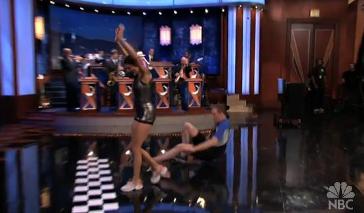 Conan O'Brien suffered a concussion Friday night after hitting his head during a segment with Teri Hatcher.
After O'Brien played the footage of the incident last night (the show never aired Friday because O'Brien was taken to the hospital), the TV world has been covering the story thoroughly.
Admittedly, the incident looked pretty bad, and despite O'Brien's attempts to recover and throw to a replay, it's clear something was up. ""I kind of couldn't speak at that point," said O'Brien last night. After he went to change in his dressing room and came back on set, he looked at his notes before the next interview.
"I said 'I don't know what I'm supposed to do, I don't know what this is,'" he said. "It was like a menu for an Egyptian restaurant."
At that point he was pulled off set, and the nurse tested his short-term memory. After answering what year it was by saying 'I know it's before 2011,' (and definitely before the Year 3000), they shipped him to the hospital before being released the next day. He was back to work last night.
MSNBC has covered the story in four segments so far today, according to TV Eyes. NBC's Today show brought it up as well. CNN discussed it once on American Morning. Update at 1:25pmET: Now Fox News is doing a segment on it.
One of the MSNBC segments was during Dr. Nancy Snyderman's hour, who gave it a purely medical bent. "That incidental bump on the head, people like Conan O'Brien, smart people, saying 'no no no I'm fine' and than frankly astute people standing around who really can intervene and make the difference," she said, before introducing a doctor who talked about the dangers and warning signs of concussions.
Stephen Colbert also weighed in on The Colbert Report last night. After saying he wanted to "extend my best wishes" to O'Brien, he threw the first jab – "Evidently Conan's fontanelle hasn't quite closed yet." Then he launched into his theory on what really happened. It involves Glamour magazine. Check out the video here.
Well, it is good video – and luckily, the late night host has fully recovered.
Here's the Tonight Show clip last night, and below, the Today segment (featuring Meredith Vieira's own famous fall):


—–
» Follow Steve Krakauer on Twitter
Have a tip we should know? tips@mediaite.com