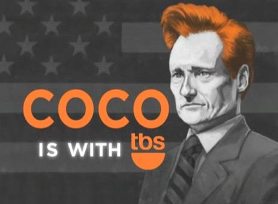 Conan O'Brien joined his new TBS bosses and colleagues on stage today for Turner's upfront today in New York.
His much-hyped show has a start date (November 8) and some new programs to boost the profile of the cable network he will soon be the face of.
In addition to a song from his current live tour, "On The Road Again" (with new, appropriate lyrics), O'Brien spoke about his desire to get back on TV. "They believe in me, I believe in them, and I cannot wait to get back to having fun on television again," he told the audience. "That's all I want to do."
Here more on TBS' plans via TheWrap.com:
Sister network TBS will be airing the late-night team of Conan O'Brien and George Lopez in addition to the original series "My Boys," and "Are We There Yet?," a new animated comedy "Neighbors From Hell," which stars Will Sasso and Molly Shannon as married demons living in suburbia. TBS also greenlit "Glory Daze," a new series about college frat life in the '80s starring Tim Meadows as a political science professor.
Interestingly, Molly Shannon and Tim Meadows are former NBCers as well, spending significant time at Saturday Night Live. Shows like Glory Daze seem to fit with the overall audience demographic of both TBS and Conan himself. In addition to these shows, TBS is bolstering their already vibrant syndicated deals (The Office and Family Guy) by recently landing the rights to Big Bang Theory, a seemingly perfect companion piece for a Conan late-night show as well.
There's still nearly six months before Conan gets on the air at TBS – but for any TBS viewer this summer, expect to see a lot of the redhead host. Promos have already started running…
—–
» Follow Steve Krakauer on Twitter
Have a tip we should know? tips@mediaite.com