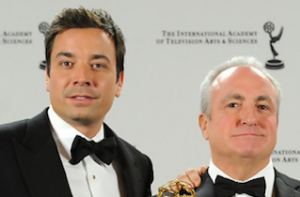 Tucked into the third paragraph of NBC's press release making Jimmy Fallon's ascension to the Tonight Show throne official is this sentence: "The Tonight Show will be returning to its original home in 30 Rock in New York and will be executive-produced by Emmy Award winner Lorne Michaels." While Fallon is no doubt achieving an ultimate career milestone by succeeding Jay Leno, perhaps the biggest winner in the deal is Lorne Michaels, who, as producer of Saturday Night Live, will now be controlling the 11:35pm time slot six nights a week.
Michaels' new job as producer of The Tonight Show will likely come on top of his existing role as producer of Late Night at 12:35am ET. During the flood of rumors leading up to today's announcement, an unnamed NBC source reportedly indicated that Michaels' first choice for Fallon's replacement is SNL Weekend Update host Seth Meyers. If Meyers gets that job, Michaels will have ushered two of his SNL protégés into NBC's late night line-up and will find himself in full creative control of close to 12 hours of programming a week on the network.
With NBC in an increasingly precarious ratings position after falling to fifth place in prime time for the first time during February sweeps and the Today Show ceding first place to Good Morning America, late night is more important than ever. By controlling the entire late night landscape, Michaels will be taking on significant risk, but also setting himself up for maximum reward. And NBC is clearly showing a massive amount of faith in the producer by giving him the reins of long-time ratings leader The Tonight Show after Leno departs.
If Michaels is able to deliver ratings success with his new trifecta of late night shows, it will likely be due to his renewed ability to cross-promote and help them boost each other. With all three shows rehearsing and taping in the same building, he will be able to build on the synergy he's already created between Late Night and SNL, in which SNL's host almost always gets the chance to promote his or her appearance on Fallon's couch.
Most of all, with the whole operation happening in New York, Michaels should be able to foster the "one big happy family" dynamic that was sorely missing from the Leno/Fallon relationship, despite their rousing rendition of West Side Story's "Tonight" this week. While no one would argue that it's always been excellent, Lorne Michaels has managed to keep Saturday Night Live on the air and relevant to the national conversation for nearly 40 years. If he can work that same magic during the week, NBC might not be as screwed as everybody thinks they are.
—
>> Follow Matt Wilstein (@TheMattWilstein) on Twitter
Have a tip we should know? tips@mediaite.com