The Root Columnist Savages 'Offended' Jay Z, Beyoncé Over Feud With Harry Belafonte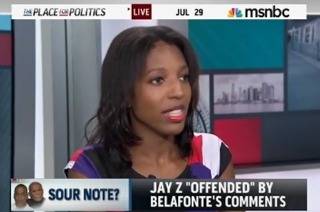 After music icon Harry Belafonte appeared on MSNBC's All In with Chris Hayes asking that Jay Z and Beyoncé Knowles-Carter use their wealth to promote civic responsibility, the power couple music moguls did not respond well – at least, they did not respond to the liking of The Root columnist Kelly Goff. Goff told MSNBC anchor Richard Lui on Monday that Belafonte's contribution to history and equality is greater than Jay Z's "will ever be."

RELATED: Cornel West: Obama A 'Republican In Blackface,' Black MSNBC Hosts Are 'Selling Their Souls'
Goff's rebuke of Jay Z and Beyoncé came amid a discussion about rising inequality and poverty among minorities – an issue the president recently acknowledged. "It would be a real tragedy if the first black president presided over one of the worst times in history to be a black American in this country," Goff said.
"I don't think the Democrats have done an effective enough job at reframing the face of poverty in this country," she continued.
Goff then tore into the Jay Z. She opened by observing that Jay Z is not "on equal footing" with Belafontebecause the latter's "legacy and impact on this country is so much far larger than Jay Z's will ever be."
"Harry Belafonte is someone who helped fund the freedom rides," Goff said. "He's the reason I can sit at this table with you all today because he helped fight for equality that way."
"Meanwhile, you look at Jay Z's philanthropic efforts; In 2010, he made about $63 million, he gave about $6,000 to his own charity," Goff charged.
Watch the clip below via MSNBC:

> >Follow Noah Rothman (@NoahCRothman) on Twitter
Have a tip we should know? tips@mediaite.com