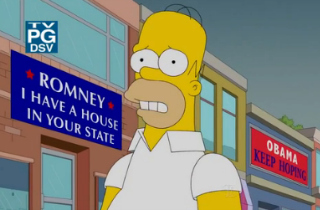 In light of Tuesday's presidential election, tonight's cold open of Fox cartoon The Simpsons hammered hard at Republican presidential nominee Mitt Romney, voter ID laws, and uninformed voters who believe President Barack Obama wants to set up "death panels."
As Homer Simpson entered the Springfield polling place, a white volunteer asked him to show identification because "stopping all Americans from voting is for the protection of all Americans." When Homer explained to the man that he is a "40-year-old white guy who didn't go to college and gets all his news from the monitors at gas stations," he was immediately let in to a voting booth: "In you go!"
When it came time to make his pick, Homer had an inner monologue:
Barack Obama? I don't know. I already got one wife telling me to eat healthy. Plus he promised me death panels, and Grandpa's still alive. Mitt Romney? I hear he wears magic underpants. I expect the leader of the free world to go commando. Plus his horse totally choked at the Olympics. On the other hand, he did invent ObamaCare.
And so Homer voted for Romney, prompting the voting machine to thank him and allow him to see Romney's tax returns which included "a medical deduction for personality implant," "six wives all named Ann," and the fact that "the government paid him taxes for five years."
When Homer threatened to tell this information to the press, the voting machine told him, "You've just been outsourced," sucking him into a tube and shipping him off to an American flag factory in China.
And so began the final Simpsons before the 2012 election.
Watch below, via Fox:

— —
>>
Follow Andrew Kirell (@AndrewKirell) on Twitter
Have a tip we should know? tips@mediaite.com