The Stories Most Likely to Be Beaten to Death Before Super Bowl XLVII
Concha: The Stories Most Likely to Be Beaten to Death Before Super Bowl XLVII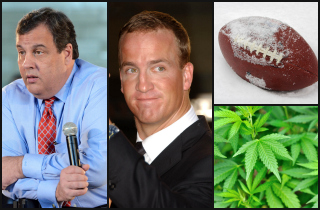 Here's a prediction that won't exactly shock you:
This year's Super Bowl will be the most-watched program in the history of American television. No surprise there: The Super Bowl is easily the biggest non-holiday-holiday of the year. And having the game five miles from the media capital of the world–along with the unprecedented cold-weather aspect–will only somehow hype the game even more and attract more eyeballs in the process.
So we'll avoid the X's and O's of the game itself (outside of my 21-17 Seattle victory forecast) and focus on the five biggest off-the-field stories you'll be hearing about for the next 13 days:
Story #1: The Mannings are American royalty. Forget the Obamas, Clintons, Bushes or Kardashians…the Manning clan is our Will & Kate (plus 3). You'll hear more than you'll ever need to know about Eli somehow having one more ring than his older (and more talented) brother. You'll hear a little about eldest brother Cooper Manning and the injury he suffered in high school called the spinal stenosis, a narrowing of the spinal canal. Cooper needed surgery to relieve pressure on the spinal cord and almost was paralyzed. He's now an investment banker in New Orleans. You'll hear a little about Archie Manning's father committing suicide, driving the former Saints' QB to be the best father he could (the kids appear to have turned out OK).
But this will mostly about Peyton—the pressure to match his brother in rings and avoid having more Super Bowl losses than wins on an otherwise sparkling resume as the greatest (regular season) QB of all-time. Eli won his second championship in Indy two years ago, Peyton's home for well over a decade as a member of the Colts. Now Peyton can turn around and do the same in Eli's house in East Rutherford. But he'll have to deal with Richard Sherman—the Seahawks cornerback who apparently gets paid by the word—who will be the perfect foil to good-guy Peyton in the media.
Story #2: Pot! Weed! Marijuana! Cable news will be rehashing (pun intended) its friendly spotlight on weed thanks to the first-ever Bong Bowl. Why? Because the two teams representing the two states (Colorado, Washington) that allow it to be purchased legally are meeting in New Jersey…where it isn't legal.
But that won't stop some pro-pot advocates in media from asking the following question: Should medical marijuana be administered to players in an increasingly violent league? Commissioner Roger Goodell said last week he's open to the idea, although it is still illegal for the Broncos and Seahawks to use it due to the league's current drug policy. From Goodell's perspecitve, if healing injuries faster means getting star players back on the field faster, it thereby strengthens the argument for an 18-game regular season (See: more money) and expanded playoffs (See: more money) that will eventually make the Super Bowl an Easter event. Of course he's open to the idea.
It's not as if players aren't already embracing the concept. Despite the ban, former lineman Lomas Brown told The Detroit News that at least 50% of NFL players likely smoke weed…a number you'll undoubtedly hear about more than a few times over the next two weeks.
Story #3: Will it snow? Polar Vortex Deux? Frozen Swamp, er…Tundra? What's the 13-Day Forecast? The 12-Day outlook? And, oh yeah…WILL IT SNOW on Super Bowl Sunday??? This kind of cheerleading hasn't been seen since the 2008 election. Anyone with a microphone is rooting for the white stuff, because, you know…no one has ever seen it snow during an NFL game before. So even though meteorologists often have issues getting tomorrow's forecast correct, most media outlets will proceed with entertaining weather predictions on a four-hour window over 300 hours from now regardless of accuracy.
Story #4: Previews of the commercials! What used to be a surprise during game breaks is now an exercise of showing almost every advertisement beforehand and analyzing it ad-nauseum leading up to the game (social media will get plenty of previews out as well). By the time the spots are seen on game day, it'll have a been-there, done-that kind of feel. Where's Bud Bowl XXVI when you need it?
Story #5: A Jersey Super Bowl means…another reason to talk Chris Christie! Outside of Sandy, New Jersey hasn't been in the news this much since Snooki got TKOd at a Seaside Heights bar…by a male gym teacher. Now the Super Bowl comes to the Garden State at a time when the Governor would likely prefer to keep the national media outside state lines for the next 75 weeks or so.
Christie questions to include but not be limited to:
Did Christie bribe the NFL to bring the game to his state? Just why is there so much traffic outside of the stadium an hour before kickoff? What does Bruce Springsteen have to say about Bruno Mars getting the halftime show nod over him, and did Christie bully anyone into making that decision as payback to The Boss? An in-depth look, coming up…
Seahawks!
Broncos!
The league's top offense versus the NFL's stingiest defense!
But if football just ain't your thing, no worries.
They'll be plenty — plenty — of other storylines to choose from.
[All images via Shutterstock]
— —
>> Follow Joe Concha on Twitter @ConchaMedia
Have a tip we should know? tips@mediaite.com