The Supreme Court Has Now Twice Deferred On Constitutionality Of FCC Indecency Rules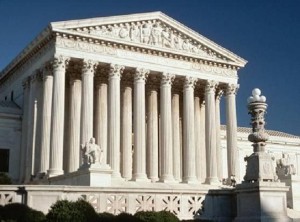 Four years ago today, comedian George Carlin passed away. One of his greatest legacies was his Seven Dirty Words routine, a vignette about the words not allowed to be spoken on TV that led to a Supreme Court case which gave the FCC clearly defined regulatory power. In the past few months, legal analysts have been waiting to see if the high court would finally decide whether or not the FCC telling broadcasters what constitutes "indecency" is constitutional or not. Well, the Supreme Court ruled, and as they did in 2009, they refused to take a position on the constitutionality issue.
RELATED: Supreme Court's Anti-FCC Indecency Ruling Doesn't Go Far Enough
Yes, this year was the second time that the Supreme Court heard arguments in Federal Communications Commission v. Fox Television Stations. The case basically put Fox on the defense after two instances of celebrities dropping the f-bomb at the Billboard Awards. Other networks ended up being victims of the FCC's strict regulations as well, and of course broadcasters were not happy to be stuck with the heavy fines. At issue in 2009 was whether or not the FCC's policy against "fleeting expletives" (profane words said in passing, as in "Fucking great!") was too arbitrary to fairly enforce. The Supreme Court sided with the FCC and said the policy was, in fact, not arbitrary. However, the justices refused to rule on whether or not the FCC's indecency policy in general is constitutional.
A year later, a circuit court declared that the FCC's rules were "unconstitutionally vague, creating a chilling effect that goes far beyond the fleeting expletives at issue here." This ended up leading to the Supreme Court revisiting the Fox case, and the expectation this time was that they would finally address the First Amendment issues at hand and create some precedent. Well, as Mediaite's Andrew Kirell pointed out yesterday, the Supreme Court only excused the networks from having to pay the heavy fines and told the FCC they needed to give the networks due warning, but didn't go far enough as to say whether the policy is constitutional or not.
Two important things need to be pointed out here. First of all, it was an 8-0 decision (Justice Sonia Sotomayor had to recuse herself due to prior legal conflict). It's rare to have such unanimity from the Supreme Court, but I guess protecting the airwaves is just that much more consensus-building than silly things like health care or executive privilege. Secondly, Ruth Bader Ginsburg delivered a separate opinion, which stated that while she agreed with the ruling, she thought the Supreme Court missed an opportunity to revisit Pacifica. Even more tellingly, Clarence Thomas agreed with her.
But what this non-ruling clearly illustrates is that no one in our government wants to touch the FCC's authority with a ten-foot pole. The FCC guidelines are in place, essentially, to protect our delicate sensibilities, and in particular, the delicate sensibilities of children who might be watching TV without their parents in the room. There is no way the Supreme Court is going to return from deliberations and send a message to the nation that this is unconstitutional.
This ruling was supposed to specifically address that issue. And by avoiding the elephant in the room, the Supreme Court is telling us that we should just live with a policy that even two of the justices think is antiquated so they don't have to make a tough decision on how the First Amendment applies to broadcast media. I mean, let's face it, these guidelines couldn't be any less relevant.
The FCC only regulates indecent material from 6 AM to 10 PM. If NBC wanted to, they could easily let Jay Leno drop an uncensored f-bomb every other sentence in his monologue. But they don't. Why? Because the networks self-regulate. They know their audience. I know we have a very dim view of self-regulation in general, but I hardly think we need to worry about the networks that greenlit Guys with Kids and Made in Jersey taking big risks with their viewing audience.
RELATED: CBS, FCC Still Fighting Over Janet Jackson's "Wardrobe Malfunction"
Of course, one could easily ask what's the point of networks bleeping out profane words on a TV show intended for adults that airs long after kids are asleep. But then, that's only a logical argument, and those generally never work in conjunction with network TV policy. For now, it's not unreasonable to have the Supreme Court make it clear whether or not the government has a place doing what the networks and parents all across the country are perfectly capable of doing on their own.
Follow Josh Feldman on Twitter: @feldmaniac
Have a tip we should know? tips@mediaite.com
Josh Feldman - Senior Editor